Uhuru says high land prices turning off foreign investors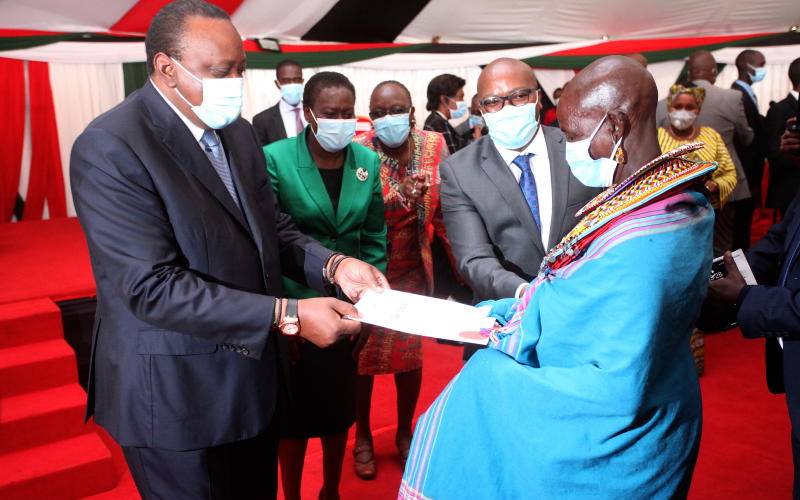 President Uhuru Kenyatta has said investors were shying away from setting up industries in Kenya due to high land prices. He urged county governments to set aside land for special economic zones to beat the high cost of land.
Uhuru was speaking at Kenyatta International Convention Centre yesterday when he presided over the issuance of title deeds to residents of Samburu County and later flagged off 75 vehicles for use in the National Land Titling Programme.
The vehicles are under lease from General Motors and will be allocated to all the 60 land registries in the country.
Among the titles issued yesterday was the deed for a 50-acre parcel near the Inland Container Depot in Naivasha, which President Kenyatta said, should be for investors willing to set up shop.
"We must have government land that we can allocate to investors to set up their industries because we want jobs for our youth and we cannot get those jobs without industries," he said.
The president issued 10,000 titles to group ranches and plot owners in Maralal town in Samburu County, as well as deed for 119,000 acres of Maasai Mara National Reserve, 2,000 acres for expansion of Nairobi National Park and a title to Ministry of Environment and Forestry for the 155-acre Nairobi City Park.
He said issuing citizens with land ownership documents was a sure way of improving their livelihoods. "That is to mean that when the citizen is given the rights to their land, they can turn it into a productive entity," he said.
The Ministry of Lands said a further 5,000 title deeds would be issued in Samburu and more in Kilifi, Kwale and Meru counties.
Land wrangles
"Community land has not been titled and has caused wrangles. We want to solve that too and make sure that the people have the title and their leaders, not the government, will decide how the land will be used depending on the needs of the community," said Uhuru.
Lands Cabinet Secretary Farida Karoney said Ardhi House had already issued three title deeds for community land in Laikipia and would go to all the 24 counties that have such land.
The CS said the leased vehicles would solve the issue of mobility and transport costs.