Win for Senate in supremacy war as court declares 23 laws unconstitutional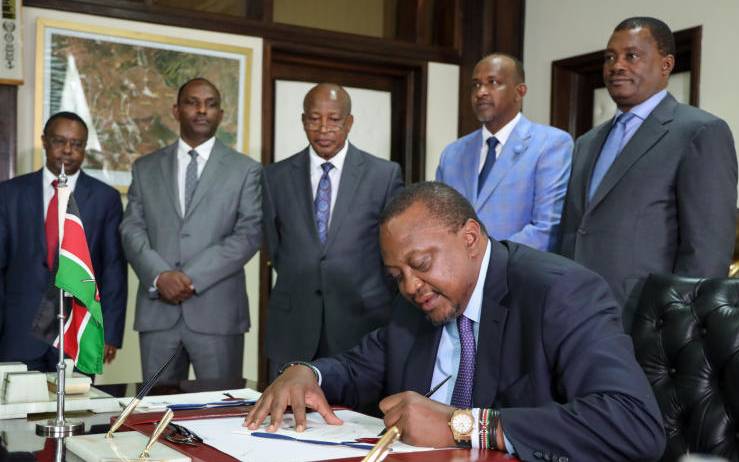 The High Court has nullified laws that operationalised Huduma Namba, slapped higher taxes on betting firms and restricted what Kenyans could say online.
In a judgement yesterday, the court struck out 23 laws that had been passed by the National Assembly, most of them in 2018.
This followed senators moving to court to challenge the laws, saying MPs had not sought their input. The laws have now been suspended for nine months to give MPs time to consult the Senate.
Key among the laws struck out are the Finance Act 2018, whose proposals were among the reasons several betting companies exited the market. The legislation required them to pay 20 per cent on winnings in addition to corporate taxes.
The future of the National Integrated Identity Management System – better known as Huduma Namba – has also been cast into greater doubt. It was introduced under the Miscellaneous Amendment Act 2018, which has been struck out.
Raised fears
Also invalidated is the Computer Misuse and Cyber Crime Act 2018 that sought to protect online users from harassment, hacking and terrorism. However, there were fears it would be misused to restrict what bloggers and media houses could post online.
Judges Jairus Ngaah, Anthony Ndungu and Teresia Matheka declared that the National Assembly has no monopoly to unilaterally pass laws without seeking the agreement of their counterparts in the Senate.
"It is mandatory for National Assembly Speaker to seek the concurrence of the Senate Speaker on Bills concerning counties. We find that the contested laws were illegally enacted without concurrence of the two Houses and declare them unconstitutional, null and void," ruled the judges.
The judges' bombshell means legislators go back to the drawing board as operations of some State agencies are likely to be crippled since the contested laws enable them to exist and operate.
It also puts the government's expenditure in disarray since all the money Bills and tax Bills signed into law to generate revenue for the Exchequer are among those declared null and void.
MPs were also dealt a big blow in their exclusive control of the National Government Constituency Development Fund after the judges declared the NCDF Act unconstitutional for failing to involve senators in passing the proposals that grant them millions of shillings every financial year.
But aware that the decision would cause far-reaching consequences to the economy and management of key government agencies, the judges said the ruling would be put on hold.
"We will suspend our orders and declarations for a period of nine months within which the National Assembly must take steps to regularise their legislation. In default, the contested statutes shall remain suspended and with no legal effect," ruled the judges.