Sonko pours out his frustrations online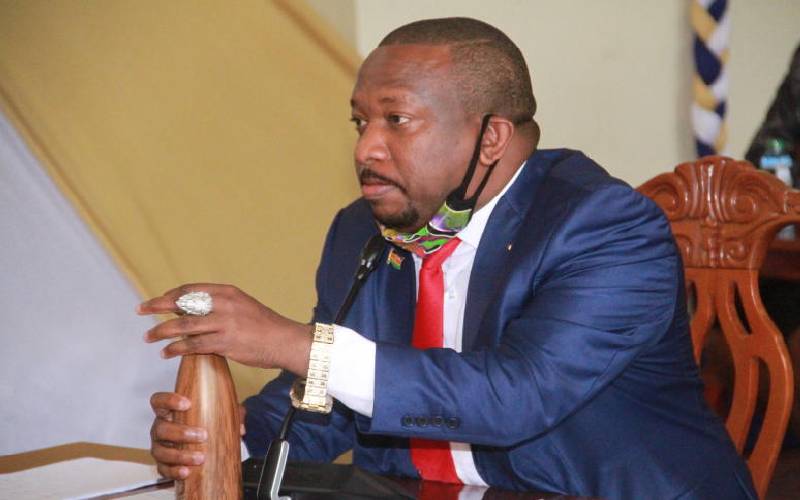 Something is itching Nairobi Governor Mike Mbuvi 'Sonko.' From his social media interactions and speeches when seen in public, the governor seems uncomfortable with the sway stripping him of power each passing day.
His long posts on alleged errors of the Nairobi Metropolitan Services (NMS) paint a picture of a man crying out to anyone willing to listen.
"I am writing to the Office of the Prosecutor of the ICC to demand for investigations against the forced and arbitrary displacement of Nairobi residents by our own Kenyan soldier "SADDAM HUSSEIN" which amounts to crimes against humanity and persecution," he tweeted in an apparent attack on NMS Director-General Mohamed Badi.
Through his spokesman Ben Mulwa, the governor has termed NMS a roadside illegal outfit whose leader should stay in the barracks.
"You cannot come and put coloured pavements and then call it development. The governor will not participate in any illegality even if it is spearheaded by the President," said Mr Mulwa.
Online, Sonko bares it all. Photos of him deep in prayer at a church, head bowed with the caption: "Lord, We come against every orchestration of the enemy that is aimed at bringing confusion, division among your people."
"I have never seen you in church. But I have seen you holding lots of cash from drawers and partying with best whiskeys of the world. Pride comes before a fall," Kimatu Paul responded to the governor's tweet.
Mulwa insists there is nothing off about Sonko's posts. He says the governor has always been vocal about societal ills.
"If you look through his social media accounts, Sonko always speaks his mind. Right now, he is speaking for the people who are being evicted in this coronavirus period," said Mulwa.
In another post, the governor claimed the government duped him into transferring some dockets to NMS but still continues to take more. Some people see paranoia and recklessness in his erratic posts. Others see bravery, and a renewed zeal to connect with people on the ground.
"He has stopped bothering with the people at the top because they play dirty. He is now focusing on the ground because they are the voters," said Ben Otieno, a politics enthusiast and youth leader in Soweto.