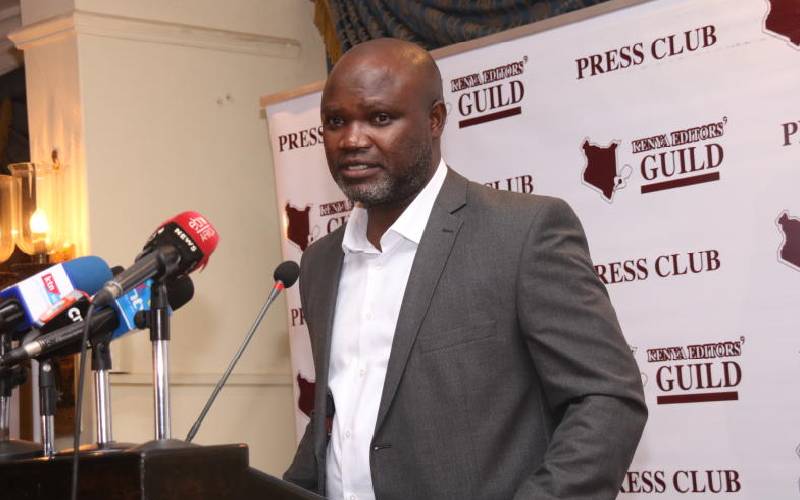 Media stakeholders have condemned the government's move to gag journalists from covering political activities across the country.
In a joint statement, the stakeholders accused the government of curtailing media freedom to gather and disseminate news.
Last week, the National Security Advisory Committee (NSAC) banned political gatherings and also warned the media and individual social media users against spreading or posting news or information which may polarise the country.
NSAC's resolution was then ratified by the Cabinet on October 8.
Yesterday, the Media Council of Kenya, Kenya Union of Journalists, Kenya Editors Guild, Kenya Correspondents Association and the Association of Media Women in Kenya said the decision was meant to silence discordant voices and will be abused by security agencies.
The statement sent to media houses was also endorsed by Kenya Community Media Network, Association of Devolution Journalists, Digital Broadcasters Association, Political Journalist Association of Kenya and Article 19.
"Such orders, if implemented, will greatly erode the gains made in strengthening a free and responsible media industry in the country," the statement reads in part.
"We would also caution against any curbs that threaten editorial independence and prerogatives, or any attempts to silence discordant voices that may seem to find expression through the media. This indicates a dangerous trend where security agencies may assume powers that amount to curbs on media freedom," the statement cautions.
The stakeholders said regulations guiding the media industry in Kenya were sufficient for responsible journalism.
While acknowledging that partisan reportage can fuel divisions in the country, the stakeholders observed that the media learnt a lesson from the 2007-2008 post-election violence.
"Any breaches of the ethical guidelines in reporting under the current political environment are best addressed under the established mechanisms, including the Media Complaints Commission, rather than by giving security agencies unchecked powers to control the media," the statement continued.