Uhuru: Corona curfew extended by further 60 days, bars opened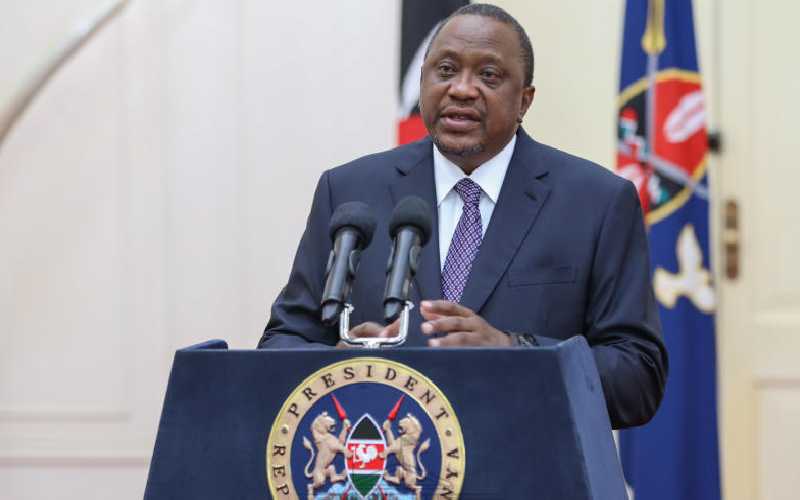 The nationwide curfew has been extended for a further 60 days.
Speaking at the National Covid-19 Conference at the Kenyatta International Convention Centre in Nairobi on Monday, President Uhuru Kenyatta said the curfew would start from 11pm to 4am, starting Tuesday, September 29.
The prohibition against selling alcohol in bars and restaurants has also been lifted with effect from September 29 and they will be allowed to operate until 10pm.
Administrators were, however, asked to adhere to protocols set in place by the Health ministry.
Places of worship have now been allowed to host a third of their normal sitting capacity but with strict adherence to Health ministry protocols.
Two-hundred people will now attend weddings and funerals, Uhuru said when he further eased the restrictions to keep Covid-19 infections at bay.
As the country de-escalates the containment measures, Uhuru said schools will only be opened when the safety of children is guaranteed.
"Don't focus on when the schools will re-open, focus on when the health and safety of our children will be guaranteed."
President Uhuru warned that should the infection cases continue to rise, the restrictions will be implemented again.
For the last six months, the country has been in a season of a paradox since the first coronavirus case was confirmed in Kenya in March.
Uhuru said today, there is a greater challenge to flatten the curve even when it seems Kenya is out of the wood. The infection rate stood at 13pc in June, 7pc in August and now at 4.4pc.
But we are the most vulnerable and fragile at the point where we think we have won, he said.
"I am not saying this to belittle our achievements, but lean on the side of caution," Uhuru added.
He said the possibility of a second wave is real as has been seen in other parts of the world with new infections reported each day.
There have been successes in terms of the country's preparedness and the development of the Health sector. Today there are more than 300 ICU beds and 7,411 isolation beds nationally, all achieved in six months.
More medical equipment has been installed across the counties as the country reimagines its Health sector.
However, Uhuru questioned whether the expanded infrastructure is enough to ease the country's restrictions set in place to ward off the virus.
Kenyans were asked to continue observing the laid out rules as they are the first line of defence in the war against coronavirus.
During the pandemic, Uhuru admitted that disruptions and innovations especially by the youth emerged and need the government's support.
To build the citizens' resilience, the VAT will continue to be imposed at 14pc until July 2021 as the income tax and resident tax stand at 25pc each until January 2021.
Low-income earners will continue to receive 100pc tax relief until December 31, 2020.