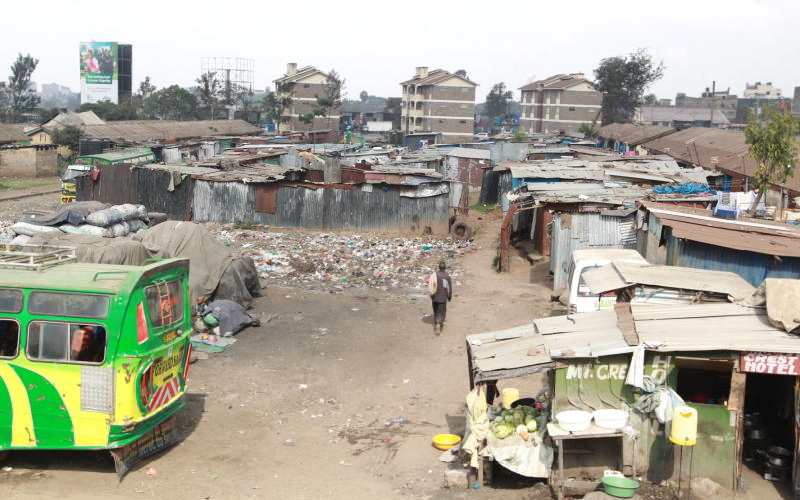 If you asked Thomas Muturi what destitution is, he would point to his chest and maybe say, "Here". He is 78, he is a pensioner, but he depends on his son who does menial jobs in their Muthurwa neighbourhood for survival.
Muturi walks with a slight stoop and a tenuous limp, a far contrast to the energetic young man who ran errands for Kenya Railways Corporation (KRC) in his heyday. He is condemned to a pauper's life in retirement.
He is among many more wallowing in abject poverty in this neighbourhood. And now, another worry has been added to his endless list, and to his neighbours.
Muthurwa settlement is always a restless place, but even to one accustomed to the unease, the anxiety in the air has, for the one last week, been way more palpable.
Read More
On September 18, a notice of eviction was sent to the close to 8,000 dwellers of the settlement behind the city groceries market, sending panic waves that have refused to go away.
"You are hereby notified to vacate the premises… within 24 hours effective from September 18 2020 at 5pm," read the notice signed by Pharis Ngotho, acting chief executive of Kenya Railways Staff Retirement Benefits Scheme.
Since that day, all has not been well. Not even in the market, which is enjoying its last few days in spite of the activity and which is – an uncanny delusion to the untrained eye – still throbbing with life.
Victims of the 1998 Kenya Railways retrenchment hobble around feeling shortchanged. Some, scared when news hit home that they were unwanted, fled within the night. Others stayed put and vowed to stage a fight for what they believe is their right.
Muturi joined Kenya Railways on November 13, 1961. He retired in November 1987.
For him, eviction would be the last nail in the coffin. He says with pension taking long to reach him, he depends on his son who does menial jobs in the area for survival.
He is adamant that the interest in developing of the city is not people-centric and shows that the retirees are not celebrated despite their years working for the railways' corporation in its heyday.
Enviable jobs
Mureithi Maina,75, the pensioners' chairperson, represents 9,000 men and women countrywide who once held enviable jobs with KR but who now survive on crumbs.
Even before he talks, the strained look in his eyes gives him away. He is full of pain, desperation and regret. "Our pension payment has not been remitted for months. And now they want to throw us out. Where should we go?" he says.
They met officers of the Retirement Benefit Authority (RBA) on March 10, 2020, and had some pension balances offset. The next meeting was slated for September. It is yet to happen, notices to eviction, being whipped out instead of cordial invitations to settle scores of old. He terms it unfair.
In this place, dotted with ancient buildings, and with expanses of bare ground decorated with little heaps of garbage and rivulets of dirty water, are those who are pensioners and were workers with the Kenya Railways.
They were allocated Muthurwa as part of a number of properties to manage on behalf of Kenya Railways. Also, they were to live in the houses erected by the corporation.
An ongoing court case that has dragged on for over two decades sees the victims of retrenchment continue to enjoy living in the KRC (Kenya Railways Corporation) property as a court injunction prevents their eviction.
And then there are renters whose monthly payments are part of what pays, or should pay, the pensioners' monthly dues.
Patrick Kamotho Githinji is the chairman of Muthurwa Residents Welfare Association. Under him are both the pensioners and renters, united in grief and battling to have their voices heard; may be the eviction notice will pass and leave them unscathed. Kamotho leads the pensioners in protesting the planned demolition. He said the eviction would be illegal.
"Procedures are not well followed," he says. "And even then, we should be given a disturbance allowance which will allow us relocate during the demolition, and the reconstruction periods."
Muthurwa Resident Welfare Association is demanding Sh3 billion for relocation and has written to President Uhuru Kenyatta seeking his intervention.
A 425-acre piece of land, part of which the pensioners sit on, is being turned into a city within the city. It will be a green city, and investors are already undergoing vetting ahead of progression of activity.
The city will be complete with skyscraper buildings, residential flats, a cultural centre and a museum. It will connect the city's central business district to Industrial Area, and is projected to be a planning masterpiece.
Residents of the estate have previously written to authorities, and can brandish a copy of a letter addressed to the head of State, about their fears that top honchos in their scheme, as well as what they refer to as "ruthless cartels" were interested in their land.
In a letter dated April 25 2019, they pleaded with the president to save them from being pushed away by people who "were attempting to grab Muthurwa".