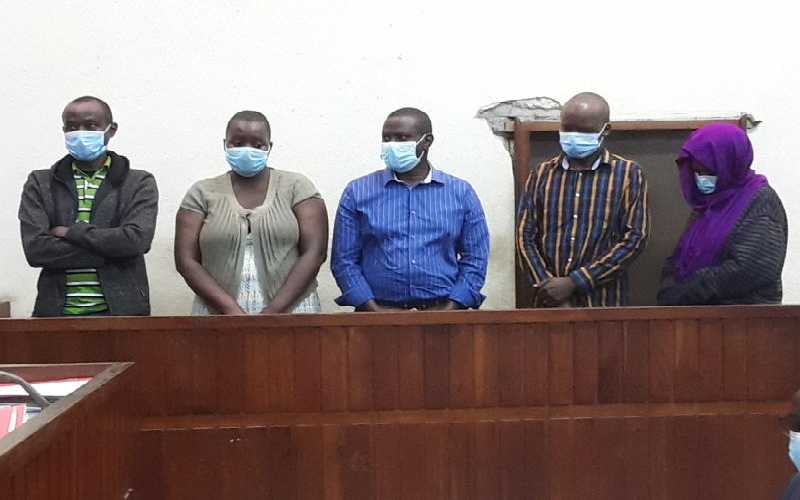 Five senior Kenya Bureau of Standards officials in Mombasa and Nairobi were yesterday charged with stealing Sh26 million.
Regional accountant Geoffrey Ngari Wandeto, regional assistant accountant Pauline Wamalwa Nafula, regional manager Martin Mswanya Nyakiamo; quality assurance manager Augustine Wachira Maganjo and principal accountant Rose Wangui Gacheru, based in Nairobi were charged with stealing Sh26,332,769.60.
Nyakiamo faces another case in Milimani Law Courts where he posted a bond of Sh15 million, while Gacheru is also facing another case in Kisumu.
Witnesses
The officials denied the charges before Resident Magistrate Christine Ogweno and were each released on a bond of Sh2 million with one surety and an alternative cash bail of Sh500,000.
State prosecutor Vallerie Ongeti urged the court to take into account the seriousness of the charges the accused are facing.
However, their lawyer Eugene Wangila told the court that the accused were innocent of the charges and are supposed to be witnesses for the State.
Wangila said investigations into the alleged fraud started last year and the accused have been in office and cooperating with the police to conduct investigations and had no reason to abscond.
According to the charge sheet, it is alleged that between July 1, 2017 and October 31, 2018, the senior officials deposited the said money into operations account instead of the revenue account both held at National Bank of Kenya for the purpose of gaining access to the money.
They are also accused of furnishing false statements of money received and utilised in the cashbook for KeBS held at National Bank Nkrumah Branch, Mombasa and stealing by servant the said money being KeBS employees.
Wandeto and Nafula both face separate counts of abuse of office.
The pretrial is set for September 29.