20 couples tie the knot at launch of open-air civil weddings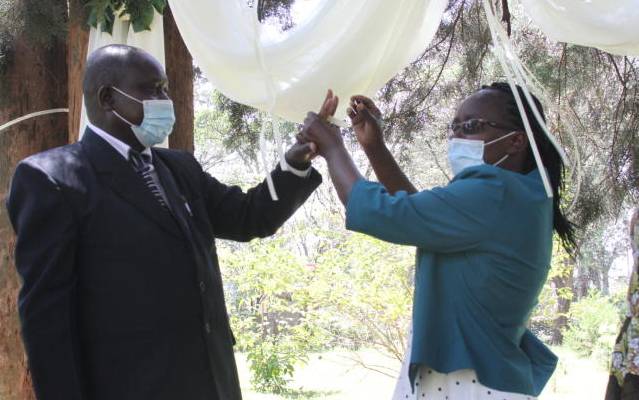 After a blissful common-law marriage that has flourished for nearly three decades and given her five children, there is nothing that 54-year-old Janet Achieng Oiro would change.
But like many people, Achieng says that during the 28 years she has been unofficially married, she had always felt an unresolved yearning to make the union official.
"I just wanted a marriage certificate, you know, that sense of security it gives you," a beaming Achieng told The Standard on Wednesday at a ceremony held at Nairobi Primary School, radiant in a white flowery dress.
Honest folks
Achieng and her husband, Maurice Oula Osumba, 56, finally decided that it was time to make honest folks of each other, becoming one of the 20 couples that tied the knot on the first day of open-air civil weddings at the Nairobi Primary School.
Achieng and Osumba invited just two witnesses and one of their children to the simple ceremony, before heading home for a cosy lunch with their nearest and dearest, spending just Sh12,000 to bring their special day to a wonderful conclusion.
"A church wedding is unnecessarily expensive. Both types of weddings are symbols of marriage," Osumba said.
But 29-year-old Elizabeth Amuhaya and Charles Asava,37, were inspired to hold a civil wedding for different reasons, having known each other for ten years and shared a home for four years.
The couple had always wanted a lavish church wedding, but a civil ceremony eventually seemed the more practical option with the disruption caused by the Covid-19 pandemic.
"We wanted to have a church ceremony this year, but after months of waiting during the pandemic, we finally opted for a civil wedding. At least it is affordable and a more intimate gathering," Amuhaya said.
Although she compromised on the type of wedding, Amuhaya was unwilling to give up her dream of making an impression during the ceremony itself, showing up with well-done makeup and a stunning white ballerina wedding gown.
"We have a photo session lined up, then we will go for lunch," Asava told The Standard of their plans after becoming husband and wife. The couple had invited just seven friends and family members to the ceremony, although their spending on the wedding topped Sh250,000, including the cost of the clothes and accommodating their guests in hotels.
"As we grew older, we realised there are some things we cannot do because our marriage had not been legalised," Asava added, noting the urgency to formalise their union.
The two couples were part of 20 couples who were the first to get married under the newly-launched open-air civil weddings, conducted by the Office of the Attorney General and Department of Justice at the garden of the Nairobi Primary School.
"We had a lot of backlogs so we decided to officiate the marriages here at Nairobi Primary School," State Law Chief Administrative Secretary Winnie Guchu told media at a briefing held at the school.
The Office of the Attorney General has taken steps to clear the backlog caused by the temporary halt in marriage services, including moving registration of marriage services online. After registration, couples are given an interview appointment at Sheria House.
Sheria House
Ms Guchu told media that the Office of the Attorney General will now conduct all wedding registrations online, interviews at Sheria House, and officiating of marriages at the garden of the Nairobi Primary School, to lower risks of Covid-19 transmission by reducing crowding at Sheria House.
The cost of the officiating remains Sh3,900.
With the launch of the open-air wedding civil weddings, the office intends to carry out marriages at two stations in the school, which has been Gazetted as a venue for civil weddings, on Wednesdays, Thursdays and Fridays for the next three months. Twenty weddings will be conducted on each of the three days, totalling 60 in a week, with the wedding of each couple lasting 30 minutes or less.
"We hope that we will have worked through our backlog when schools resume. If schools reopen we will find another venue for the weddings," she stated.
Ms Guchu stated that so far, the office has reduced the backlog caused by Covid-19 from 700 to 400.
However, civil weddings in other parts of the country are going on as before, a factor Ms Guchu attributed to lower numbers of people engaging in civil weddings outside Nairobi. She stated that religious marriages are also going on as usual, but with the observance of Covid-19 rules.
However, she also stated that the number of customary marriages handled by the office has reduced drastically since 2017.
"Since 2017, when the Marriage Act became effective we have seen a very low uptake of customary marriages."