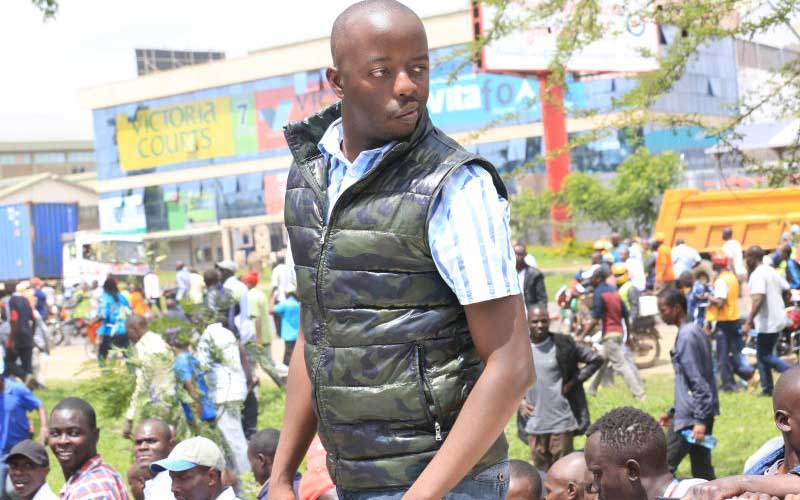 In an uncharacteristic mien, a tweet by ODM leader Raila Odinga's son, Raila Jnr, has exposed the soft underbelly of the Orange party.
The tweets interpreted as a warning shot to the party's top brass, who have brazenly waged political battles to real and imaginary foes, stirred the hornet's nest on Tuesday.
In the tweet, Raila Jr rebuked party officials for deviating from the deeply cherished norms to chasing clout and settling political scores.
He asked ODM to find "its way back to basics" and dwell on its development agenda clearly outlined in its manifesto, focus on service delivery, promotion of democratic space and protection of private citizens' rights.
Read More
He also took a swipe at the party's politicians, accusing them of not adhering to ODM's philosophies and instead engaging in sideshows and name calling.
"...we're not just about private jets and slay queens whilst abusing rival politicians, we have a development agenda clearly outlined in our manifesto," Raila Jr tweeted, perhaps in reference to Mombasa Governor Hassan Joho and National Assembly Minority Whip Junet Mohamed.
On July 9, Joho and Junet flew on a luxurious private jet to Dubai to visit Junior's recuperating father after a minor back surgery.
The two posted their photos on the airport and inside a comfy plane. In a tweet, Joho said he was "off to Dubai with Junet to see Baba."
Yesterday Raila Jnr climbed down and sought to clarify that he was not targeting anyone in particular with his tweet, and even apologised for any misunderstanding caused.
"As an ordinary ODM member my views are my own and not those of the party. I'm grateful to ODM for allowing democratic space in which different views and opinions are expressed," he said.
Raila's aide Silas Jakakimba dismissed Raila Jnr's tweets as comic and trivial.
"This tweet and its opening line sound like those tabloid stories that begin, 'Ten things you didn't know about XYZ'..." Jakakimba tweeted.
But political pundits say the tweets were not by accident or fluke but a carefully calculated move to chop off some heads who have subjected the party to ridicule and disrepute.
Granted, Raila Jnr is no ordinary folk in ODM, as he is deemed the heir apparent in Odinga's family tree.
Analysts observe that ODM officials have been opening too many war fronts that could disadvantage the party in the run-up to 2022 elections.
The acerbic Press statements, caustic tweets directed at Deputy President William Ruto, Amani National Congress (ANC) boss Musalia Mudavadi, Ford-Kenya's Moses Wetang'ula and Wiper leader Kalonzo Musyoka have complicated matters for the Opposition party.
Of concern has been the party's cherished tradition of protecting public interest alongside the civil society. Critics claim ODM has abandoned its traditional role even as the party insists that the times have changed with the Handshake.
Anti-corruption credentials
Political analyst Martin Oloo poked holes on the party's stand on graft, saying ODM had never been known to have a firm stand on the vice. He said the party was formed as a result of rebellion against the 2005 constitutional change.
"There is no doubt ODM is part of Jubilee, but it has no credentials on anti-corruption crusade. Some of those who have been mentioned for corruption at some point were in ODM," said Oloo.
Analyst Javas Bigambo said Raila Jnr's tweet could have been borne out of a discussion he had with one or more members of the party, who were not comfortable with the first lane that was not in sync with trends in ODM.
"He may have picked the idea from somewhere, but going by the criticism and the manner in which he articulated it, it appeared he was taking on top brass, including Junet, Joho, and by extension his father," said Mr Bigambo.
Bigambo argued that it is possible there could be young ODM members who were uncomfortable with some of the party leaders living first-class life and trying to show opulence while the party wanes.
When it was born in 2005, ODM was the biggest party then, going by the parliamentary strength of 105 MPs in the 2007 polls. Today the party is a pale shadow of itself, with only 62 MPs in the National Assembly.
To Bigambo the statement originating from the son of the party leader is heavily loaded and should have the party talking and discussing the issues rather than dismissing them.
It does not also help that some ranking members of the party have been adversely mentioned in graft, including the Kenya Medical Supplies Agency scandal, which the senior party officials have been almost unapologetic about.
ODM Chairman John Mbadi yesterday defended the party's stand on various things, including corruption and abuse of human rights.
Mr Mbadi said ODM had been helping President Uhuru Kenyatta to fight corruption.
He said before the Handshake, the Jubilee administration had failed to lead in the war against graft.
"The agencies charged with fighting corruption had become moribund and at the time we even wanted EACC to be disbanded. But since the Handshake the war on corruption has been heightened," said Mbadi.
He dismissed Raila Jnr as just Raila's son and termed the remarks personal.
"Raila Jnr does not speak for the party, he is merely Raila's son. I do not understand why anyone would take his comments to explain the position of ODM," said Mbadi.
Kikuyu MP Kimani Ichung'wah, a Ruto's confidant, used Raila Jnr's tweets to depict the rot in ODM, saying even insiders were in agreement that the party had lost direction.
Mr Ichung'wah said the party was wasting away from the inside and was full of hypocrites who were scheming for the 2022 presidency.
Just last week, Raila Jnr took a swipe at Junet for failing to defend Kapseret MP Oscar Sudi's freedom of speech when he was arrested for hate speech and incitement.
"Actually, Junet Mohamed, as Minority Whip in the House and senior parliamentarian, I believe your position should be that even though you don't necessarily agree with what Oscar Sudi said, you will defend his right to say it. Freedom of speech is the cornerstone of our democracy!" he tweeted.