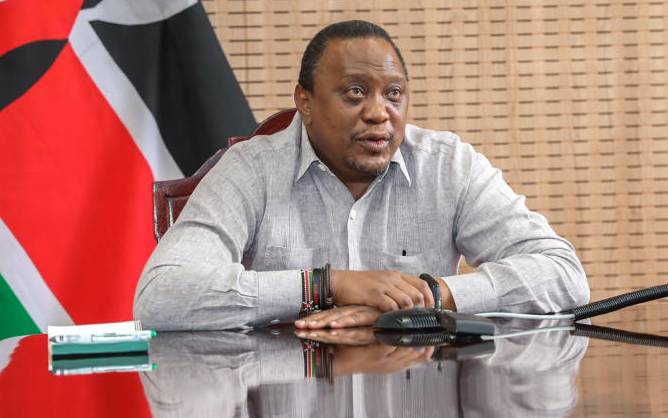 A Cabinet meeting chaired by President Uhuru Kenyatta (pictured above) yesterday approved more than 40 items including memoranda, policies and Bills to boost development in the country.
Among the policies approved include the development of a commuter rail line from the Nairobi Central Station to Jomo Kenyatta International Airport and the Kenya Global Partnerships for Education (GPE) Covid-19.
The Cabinet also approved the enhancement of the Group Personal Accident and Work Injury Benefits Act Cover and the inclusion of Comprehensive Group Life Cover for all civil servants, including the National Youth Service.
Others include hosting of the 9th edition of Africities Conference in 2021, Industrial Research Development Institute Bill, 2020 and Proposed Health Laws (Amendment) Bill, 2020.
Read More
A statement from State House said the Cabinet considered a raft of policy interventions geared towards economic stimulus during and after the subsistence of the Coronavirus pandemic.
"Cabinet also discussed seminal programmes and projects within the Administration's Transformative Agenda for the nation espoused as the Big Four," the statement said.
The meeting applauded Kenya's healthcare workers for their commitment to duty during the Coronavirus pandemic. Other frontline staff including security officers were also recognised.
"As a measure of our nation's recognition of and pride in our frontline workers, Cabinet also approved the Comprehensive Insurance Cover for all frontline workers."
According to the brief, the Cabinet noted that many Kenyan health workers had joined various programmes to support other nations in their fight against various pandemics such as the 50 Kenyans currently serving in Seychelles and the team of over 100 medical personnel who heeded the call to stand with the Democratic Republic of the Congo as it contended with Ebola.
The meeting also considered and approved an Inter-Agency Programme to prevent and respond to Gender-Based Violence (GBV) in the context of Covid-19, noting during the pandemic, there had been a marked uptick in undesirable social challenges, amongst them domestic violence, GBV and violations of the rights of children.
The meeting approved the establishment of toll-free hotlines and various online and mobile applications that would enable anonymous reporting of all incidents.
Cabinet also approved the establishment of a credit guarantee scheme with an initial seed capital of Sh10 billion aimed at enhancing access to credit by micro, small and medium enterprises.
The State's contributions are expected to be followed by contributions from development finance institutions and participating commercial banks, which are expected to boost the funding to at least Sh100 billion. The scheme is expected to be operationalised by mid-next month.
On affordable housing, the Cabinet approved the implementation of the Mukuru Social Housing Project, the first social housing programme in Kenya's history.
"The project, with an estimated investment value of Sh15 billion, will consist of over 13,000 housing units in a partnership between the Government and private investors."