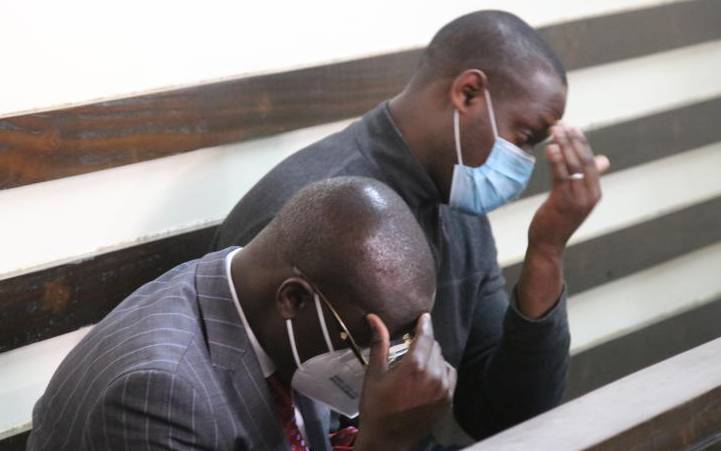 Businessman Chris Obure and his bodyguard Robert Bodo have been charged with the murder of Kevin Omwenga.
The courts also dismissed an application by Obure to be made a state witness in the case.
On Wednesday, the duo appeared virtually at the Milimani law courts before Justice Mumbi Ngugi where they took a plea and denied the charges against them.
Obure pleaded not guilty after the court dismissed his earlier application to turn him into a State witness in the case.
Justice Ngugi stated that Obure's application lacked merit as he cannot dictate to the DPP whether to make him an accused person or a State witness.
The judge further ruled that it was upon the court to look at the presented evidence by Obure as a defence.
Obure and Bodo are accused of jointly killing Omwenga on August 21, 2020, at Galana Suites in Nairobi's Kilimani area.
On Tuesday, Obure's lawyer Danstan Omari had moved to court challenging the joint murder charge. Omari made an application for his client to serve as a State witness rather than an accused person.
The lawyer sought to have the application argued out in court today before Obure took the plea. He said he was concerned that once Obure takes plea, he will automatically become an accused person and not a suspect.
His argument was based on new CCTV footage that surfaced over the weekend showing Bodo accessing Obure's office at 6.26 am on August 21, picking a gun, heading out and later returning the gun at 11.42 pm, a few minutes to midnight.
Omwenga is said to have been killed at 11.30 pm on the same day.
The DPP opposed Obure's State witness application, claiming the businessman was seen near Omwenga's house on the day he was killed.