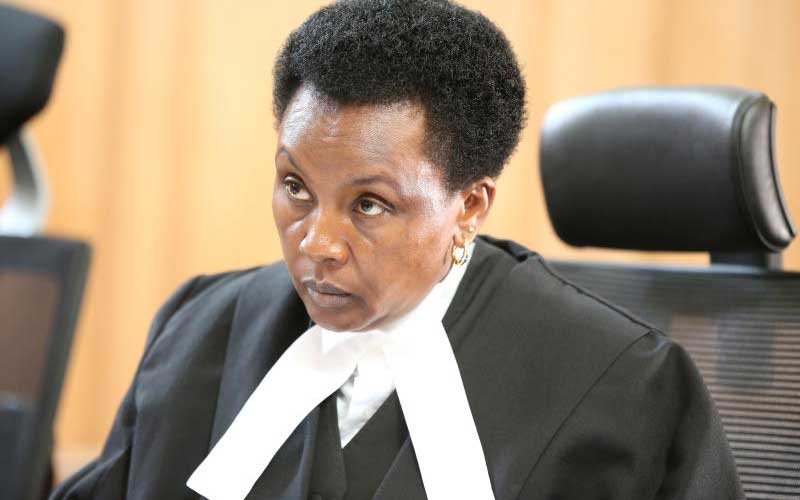 Director of Public Prosecutions Noordin Haji is not relenting in his pursuit of Deputy Chief Justice Philomena Mwilu in a case challenging her integrity.
Through an application filed at the High Court on Thursday, the DPP accuses the DCJ of using her position to hang on and avoid a disciplinary case pending before the Judicial Service Commission (JSC).
Read More
Haji claims that from the time his office initiated criminal charges against Justice Mwilu in August 2018, she has been using every tactic to delay the case -the latest being her application at the High Court on August 17 which stopped the JSC from continuing with the disciplinary proceedings.
"She is bent on ensuring that her strategy of delaying the matter indefinitely is achieved regardless of the consequences that all other parties, including members of the public, who have interest in the matter may suffer," said Haji.
Justice Weldon Korir ruled that the DCJ had disclosed prejudice she will suffer if the commission continues with the disciplinary hearings.
Bias claim
The DCJ, in her petition, wants two JSC commissioners – Attorney General Kihara Kariuki and Law Society of Kenya representative Macharia Njeru – to recuse themselves from the JSC disciplinary hearings over claims of bias.
According to her, Kariuki and Njeru had openly campaigned to have her removed from office and allegedly organised secret meetings with other commissioners to plot her removal.
She is also challenging the JSC's jurisdiction to hear the disciplinary case, arguing that the commission lacks the mandatory rules of procedures and guidelines of conducting the proceedings.
The raging dispute between Haji and Justice Mwilu started in August 2018 when she was dragged to court to face charges of abuse of office and obtaining the execution of security by false pretence.
The DCJ, however, filed a petition challenging her prosecution and upon her application, a five-judge bench of the High Court agreed that the charges against her as drafted by the DPP were matters that should have been taken to the JSC.
But Haji, in his application, stated that it is ironical that the DCJ is the one who wanted the dispute over her integrity handled by the JSC but has now turned to oppose the commission.
He also seeks to be enjoined in the case filed by Mwilu, arguing that the DCJ mischievously left out his office and that of the DCI while aware that they will be directly affected by the outcome of the case.
Hearing of the DPP's application is set for September 22.