Prosecutions boss Haji goes after Maasai Mara VC, 4 others in Sh177m fraud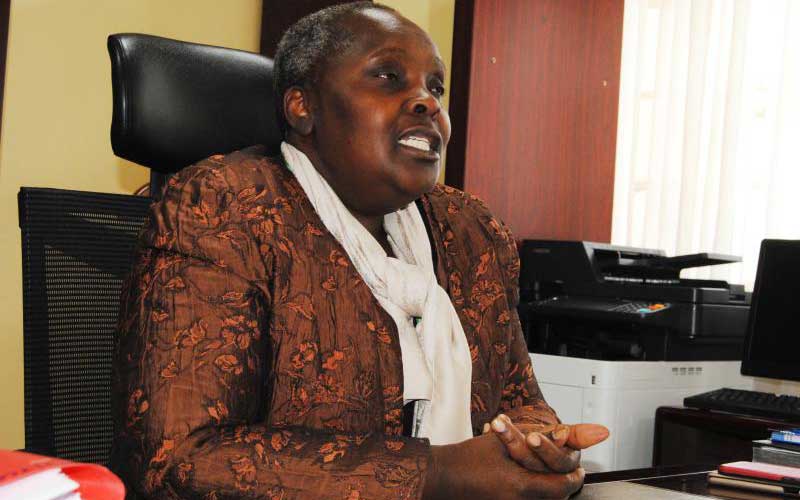 The Director of Public Prosecutions Noordin Haji has approved charges against Maasai Mara University Vice Chancellor Mary Walingo (pictured) and four others for misappropriating the institution's Sh177 million.
They are accused of illegally withdrawing about Sh177,007,754 from the accounts of the Narok-based university for personal use between 2016 and 2019.
Prof Walingo will be charged alongside the Deputy Vice-Chancellor Finance Prof Simon Kasaine Ole Seno and Finance Officer Anaclet Biket Okumu.
The others are Prof John Almadi Obere who was the acting Deputy VC Academic and Student Affairs between 2016 and 2019 and the Vice Chancellor's driver Noor Hassan Abdi.
On Monday night Mr Haji said Prof Walingo through the finance officers would give orders to junior officers working in the finance department to write cheques without following due process and based on fictitious expenditures.
"There is sufficient evidence to support various charges under the Anti-Corruption and Economic Crimes Act and the Penal Code," Haji said in a statement detailing how the scheme was orchestrated.
He added an analysis of the evidence obtained the Directorate of Criminal Investigations (DCI) showed that once the money was withdrawn, it was delivered to Prof Walingo through her proxies.
"Despite the university having a well-developed accounting system known as the Enterprise Resource Planning (ERP) and proper books of finance, there was a deliberate failure by officers in the finance department to record the subject transactions/cheque withdrawals in the ERP system and books of record in an attempt to hide the transactions," Haji said.
"In applying the evidential test, I have considered the evidence and information availed to my office and concluded that it is in the public interest to prosecute this case. The decision to prosecute is in line with safeguarding the public good."
Controversial return
The approval of Walingo's charges follows months of investigations after a local television ran an exposé in 2019 on the corrupt dealings at the university.
Prof Walingo, who has served as the university's VC since 2015, was sent on compulsory leave in September 2019 by the university counsel only to return after a four-month absence.
Her return triggered an uproar with Office of Director of Public Prosecutions clarifying that they had not cleared off the corruption allegations.
Mr Haji, in his statement on Monday, said he had received the inquiry file from the DCI on November 26, 2019, with recommendations that several suspects identified be charged.
He then directed on January 14, 2020, for a detailed and thorough investigation owing to "the breaches of the law disclosed and seriousness of the consequences."
"I also noted that there were serious gaps and deficiencies in the investigations that needed to be addressed by way of further investigations and set up a team of persecutors to guide the team to ensure that all the gaps had been adequately addressed," Haji said.