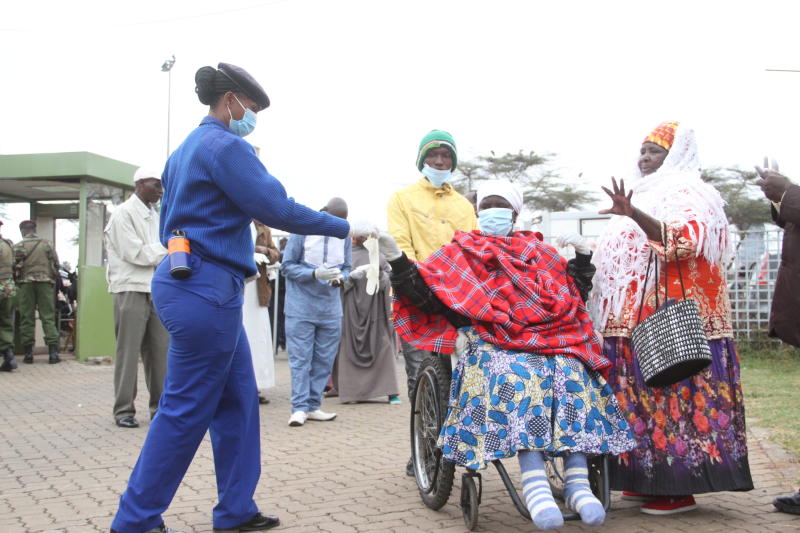 Pauline Wangui , 70, was at the Kenyatta International Convention Centre (KICC) in Nairobi as early as 6am yesterday, waiting for a piece of paper that would finally give her proof of ownership of land.
Anxiety is a feeling that Wangui knows too well. For 35 years, she has worried that she could be evicted from land she rightfully owned.
"If someone came and took my land, what would I have showed them to prove that it is mine? I did not have anything," she said.
Standing at the KICC gate overlooking the Senate, with her sweater pulled close and a white scarf draped over her head, Wangui shivered from the biting cold but her excitement was palpable.
Read More
That the title deeds were given to them at KICC in Nairobi was symbolic to her.
"This land was given to me by that man seated over there," she said in Kikuyu, pointing at the bronze statue of founding father Mzee Jomo Kenyatta at the KICC.
She was beaming, a gummy smile lighting up her face as she spoke.
For Wangui, the feeling of being handed the title deed of her land in Korogocho slums was similar to what athletes feel after completing a race and stepping on the podium to be handed a medal. Only, her race was of 35 years.
For 35 years she battled in the corridors of justice and even engaged in physical fights to secure her land.
"This is a blessed day because finally, we can sleep in peace like other people. We have seen the strength of God," she said.
Eunice Wanjiku, 67, knew best the feeling that Wangui was expressing. She, too, was caught in a swirl of emotions.
Moving with the aid of a wheelchair did not stop Wanjiku from going to KICC to receive her title. "I had to come and take it for myself. I have been waiting for too long," she said.
The two women who are neighbours in Korogocho were among landowners from Embakasi Ranching, Tassia, Korogocho and Mbagathi River Bank estates in Nairobi County who received title deeds yesterday. For the second week in a row President Uhuru Kenyatta handed out title deeds to thousands of landowners in Nairobi.
The landowners were hundreds of elderly men and women, some of them strangers to each other, but with the familiarity of the struggles they went through for the past years owing to lack of title deeds.
Defying their advanced age, health complications and biting cold, one by one they walked wearily into the dome set up at KICC grounds. Others walked in aided by kin or National Youth Service officers who were manning the grounds.
Mau Mau War Veteran Association Secretary General Gitu wa Kahengeri was one of the pioneer members of the Embakasi Ranching Company founded in 1975 to purchase land for shareholders.
When it was started, the company had 18,000 acres, 4,000 of which were acquired by Nairobi City Council for sewage treatment works.
However, since 1982 when the land was subdivided and shareholders were allocated quarter-acre plots, it has been a long wait for titles for the 25,000 owners.
"This company was formed by my friend Muhuri wa Muchiri. I am one of the first members and we have been waiting for the title deeds for more than 40 years. It is great that that day has come today," Gitu said.
Even yesterday, as some 30,000 shareholders of the land buying company got their title deeds, about 1,000 others will still have to wait.
There are 1,000 plots with disputes before court.
Those who did not pick their title deeds yesterday will collect them from the chief's office
"Those of you who are getting title deeds, that is wealth that is coming to your family. Make sure that you use it to improve your standard of living. Do not be tricked to sell the land for pennies or to waste it so that your family does not benefit. You can now develop that land without the worry that someone is going to evict you," the president said.
"You know the value of a plot in Embakasi. There is none that goes for less than Sh3 million so in issuing these 30,000 title deeds we are unlocking Sh90 billion," he added.
Since it was started in 2018, the National Titling Programme has expedited the production of title deeds for parcels in Nairobi, Kiambu, colonial settlements in Nyeri and Waitiki at the Coast.
Expedited production
The Head of State promised to address land issues in Njoro, Mombasa, Kilifi, and at the border of Meru and Tharaka Nithi. Uhuru announced plans to construct a wholesale food market on a 20-acre parcel in Embakasi to uplift the socioeconomic wellbeing of the area.
"We are behind you as you develop your plots. We will bring roads, sewerage services and electricity so that Kenyans can live well," he said.
Last Wednesday, the president issued 2,100 title deeds to landowners in Nairobi County.
Commenting on the stalemate on county revenue sharing formula, Uhuru said the process should be guided by the principles of justice and truth.
A total of 145,000 title deeds have been issued to city residents in the last eight years. Lands Cabinet Secretary Farida Karoney said the Jubilee administration has issued five million title deeds to the public.
In attendance were Governor Mike Sonko and Nairobi Metropolitan Service Director Mohamed Badi.