Uhuru and Ruto disagree on county cash sharing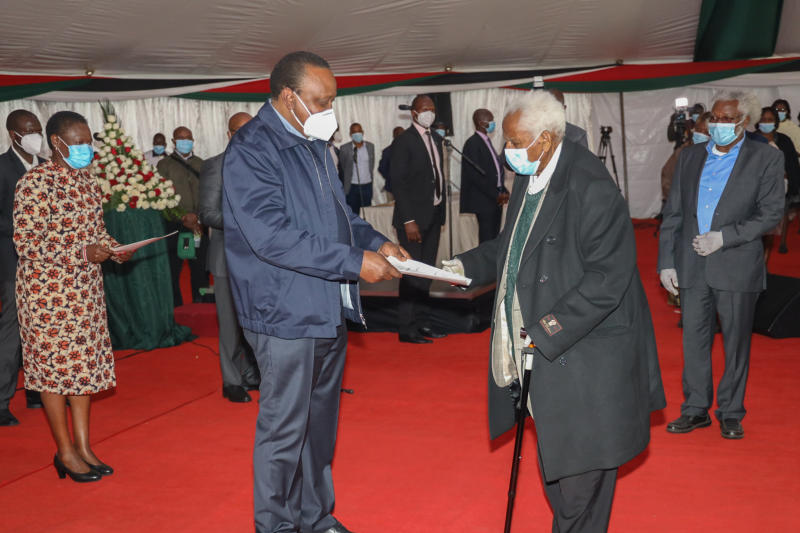 President Uhuru Kenyatta has publicly made clear his stand on the divisive revenue allocation formula.
Speaking in Nairobi yesterday where he issued 38,000 title deeds to residents, Uhuru supported the proposal that puts more weight on population, modified from the Commission on Revenue Allocation (CRA) formula, as the only fair way of sharing revenue.
He said those who were using the formula to fight him had picked the wrong target since he had no hand in how it was crafted.
"This is not my money so that people can say Uhuru has done this and that; this formula came from the CRA and it has gone to the Senate so that the allocation can be done in a fair manner," he said.
While his support for the formula proposed by CRA was expected, it shows just how far apart President Kenyatta and his Deputy William Ruto have drifted.
The DP has urged senators to come up with a win-win solution, and has been especially critical of how the government was forcing through the vote.
"It is only fair that when we are looking at the formula, the bigger counties with huge populations should get more resources. But at the same time, we should not forget the small counties. We should also consider the counties that have been marginalised. We need to find a formula in which even if their allocation will reduce, it does so in a way that they will not be affected," Ruto said.
He was speaking at his Sugoi home in Uasin Gishu County yesterday.
On Monday, three senators opposed to the government-backed revenue sharing formula were arrested by police and driven to their home counties just hours before a crucial vote in the House.
Senators Cleophas Malala (Kakamega), Christopher Langat (Bomet) and Steve Lelegwe (Samburu) were later released without any charge.
Uhuru yesterday faulted those proposing alternative revenue allocation formulas, saying they were taking away from the poor in counties such as Nairobi.
"Why would someone in Embakasi and Korogocho who uses flying toilets be told that they are rich and have no right to get more money," he posed to a crowd made up of residents of Embakasi, Korogocho and Mbagathi River Bank slums.
He spoke at Kenyatta International Convention Centre (KICC) when he issued 38,000 land title deeds to residents of Embakasi Ranching, Tassia, Korogocho and Mbagathi River Bank estates in Nairobi County.
"Truth and justice will prevail and I have no quarrels or arguments with anyone," Uhuru said.
But it was what Uhuru left unsaid and what he left the public to read between the lines that were telling, especially after remarks made by his deputy appeared targeted at the government.
"I do not talk much nowadays," Uhuru said, "I just read the newspapers and see how people are talking and do not pay them any attention. Kenyans will know me from what I have done and not from what I will complain about every day," he said.
A day earlier, Ruto had said the government was using police to settle political scores.
"Politicians must learn to do their thing and run their errands and agenda without involving public servants who have nothing to do with politics," Ruto said on Thursday. Ruto has also previously spoken up about a plot by the 'deep state' to block his bid to the presidency in 2022.
Uhuru yesterday said it was God who would decide who would be the country's next president.
"Leadership does not belong to one person, it belongs God and God will decide who will lead when the time comes. That is called democracy and it is the path we chose," he said.
Uhuru said while others were loudly complaining, he was busy working for the public.
"You will see my work, let those who are making noise and complaining continue to do that," he said.
Critics of the proposal favoured by the president say it is retrogressive to the spirit of devolution and would take the country back to the days of marginalisation and exclusion. His stand is likely to harden the resolve of the senators opposed to it.
Yesterday, Elgeyo Marakwet Senator Kipchumba Murkomen gave his own view of what the president had said.
"Heri wanaotafuta choo kwa maana wao wameshiba. Kuna wale wanakufa njaa ata haja ya choo hawana kwa maana hawajakula ama kunywa chochote (Those who are looking for toilets are better off because they have eaten. There are those who are dying of hunger and have no need for a toilet because they have not eaten or drank anything,") Murkomen tweeted in reaction to Uhuru's remarks.
Yesterday, Senator Irungu Kanga'ta said he stood by the president's view.
"I endorse the president's views. Nairobi has poverty which needs to be addressed. Other big counties have poverty as well," he said.
Kericho's Aaron Cheruiyot also took to social media, rooting for a win-win formula.
Other senators, however, felt the sentiments by Uhuru and Ruto would jeorpadise the 12-member committee's talks.
"Same government old story, the leaders may just mess the mediation," said one of the members in the team.
The vote for the revenue formula has already been adjourned nine times. The latest was on Monday to allow the Special Committee formed by opposing sides to reach consensus on the matter.
Commenting yesterday on the stalemate in Senate, the president said the process should be guided by the principles of justice and truth.
Uhuru's camp fronted the Finance committee report amending the CRA proposed parameters that split the House, resulting in numerous amendments.
This included one by Majority Whip Kang'ata to freeze implementation of the disputed third basis revenue sharing until after the election. It was, however, rejected by majority senators.
Under a proposed third-generation formula by CRA, the Basic Revenue Share is weighted at 20 per cent, Population 18 per cent, Health 17 per cent, Poverty 14 per cent, Agriculture 10 per cent, Land area 8 per cent, Urban services 5 per cent, Roads 4 per cent, Fiscal effort 2 per cent, and Fiscal prudence 2 per cent.
Uhuru's allies are now supporting nominated Senator Petronilla Were's formula, same as ODM Leader Raila Odinga, ANC Party Leader Musalia Mudavadi and governors while a further amendment to Nairobi Senator Johnson Sakaja's by his Meru counterpart Mithika Linturi has the support of the DP.
Were's formula seeks to retain the second-generation formula and adopt the CRA formula in the 2022-23 financial year or when the State increases the counties allocation to Sh348 million, up from the current Sh316.5 billion.
Were wants the Finance Committee's proposal adopted once additional allocation is available.
It has weighed Health at 20 per cent, Basic share 20 per cent, Population 16 per cent, Poverty 14 per cent, Agriculture 12 per cent, Roads 7 per cent, Land area 5 per cent, Urban services 4 per cent, Fiscal effort 1 per cent and Fiscal prudence 1 per cent.
Counties to lose
If implemented, nine counties will lose substantially, with Mandera at Sh1.3 billion.
If implemented in its original form (CRA formula), 22 counties stand to lose about Sh20 billion collectively, while 10 counties with the highest number of poor people stand to lose Sh4.4 billion collectively.
Under Senator Charles Kibiru's formula, 28 counties stand to gain while 19 lose, with Wajir County being the biggest loser at Sh2 billion, as Marsabit and Mandera lose Sh1.9 billion each.
Nandi stands to be the biggest gainer with Sh1.3 billion, followed by Uasin Gishu and Nakuru at Sh1.2 billion each.
Sakaja's amendment seeks to retain the second-generation formula and cap the revenue-share baseline at Sh316.5 billion, meaning this is the amount that would be subjected to the second-generation formula in the subsequent budgets.
It has been further amended by Linturi and proposes a baseline of Sh270 billion.