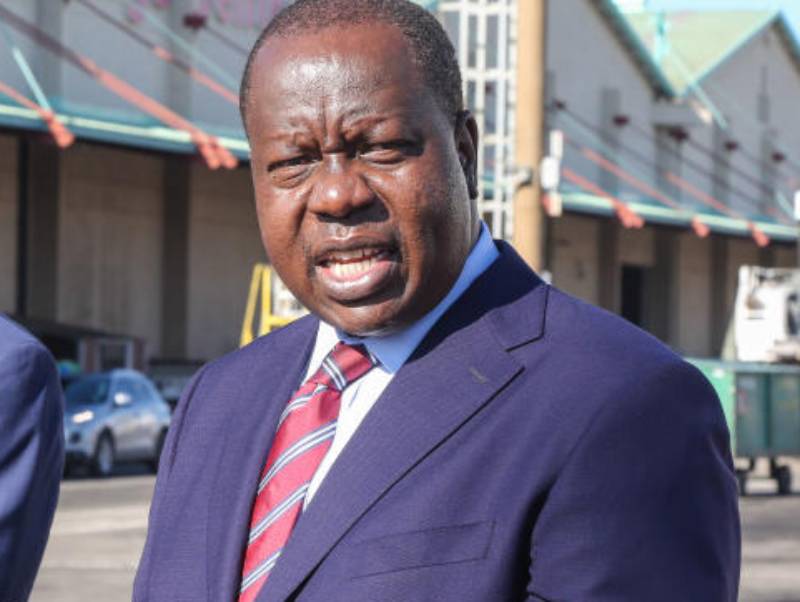 Interior Cabinet Secretary Fred Matiang'i (pictured) has decried the poor state of most police stations in the country, saying they give a bad image.
Matiang'i said there is an urgent need to improve the image of the structures and working environment for all police officers in the country to boost their working morale.
He said the environment an officer lives and works contributes to his or her output.
"Do we care to know where these officers live and eat or we see them as pieces of furniture. We must address this issue now and I know collectively we can," he said.
He challenged communities and individuals to adopt and improve police stations across the country as a way of improving the working environment.
"We have seen people adopt animals and trees. I challenge Kenyans to also adopt police stations and maintain them. They are the base of many societal issues."
The CS made the remarks at the Karen Police Station, Nairobi when he commissioned the national campaign on cleaning all police stations and prisons facilities.
He said communities should fundraise and construct standard houses and stations for police the same way they do for churches and mosques.
"Communities fundraise to construct churches, mosques and even houses for clergy. Why can't we raise money to also construct for an Officer Commanding Station of an area near you?" he asked.
Matiang'i acknowledged there are challenges in getting resources to upgrade all police stations and prison facilities, hence the need to mobilise communities to help.
He told officials from the National Government Administration Officers to lead in the campaign to achieve the goals by December. He also challenged government officials who are capable of upgrading a police structure individually to join in the campaign.
"Most of these structures were constructed in 1950s and the officers are still using them. I went to Naivasha police station and I was not impressed with the sit that the officers there were using on a daily basis. I asked the IG if he could sit on the furniture the whole day listening to complaints from the public," he said.
He said officials from the Kenya Association of Manufacturers had supplied water tanks to most police stations in the country and asked for more resources to help the personnel there.
The CS said he had adopted Karen Police Station and would ensure he mobilises resources to improve its image by December.
Matiang'i said similar upgrade of structures will be done in prisons and asked for more help from well-wishers.
Officials from Nairobi Metropolitan Service led by Director General Maj Gen Mohamed Badi said they will also boost in the campaign and called for painting of all structures in the city as part of the drive to spruce up the image.
"We are going to see more of these activities. We want to ensure our police stations are cleaned, repainted and organized," he said.
Three cleanest police stations will be rewarded, Matiang'i said, adding that citizens have a right to be served in clean environments that are not demeaning or do not dehumanize them.