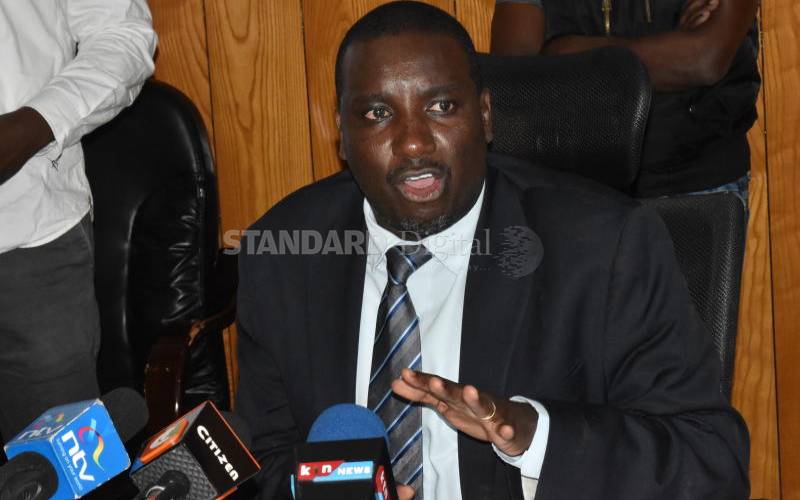 There is no let up in the battle for control of the office of Nairobi County Assembly Clerk pitting Jacob Ngwele and Edward Gichana (pictured).
The court has reinstated Gichana as the clerk pending the determination of a case before the Employment and Labour Relations Court on August 28.
He was appointed clerk in July by the Assembly board, but the Employment and Labour Relations Court annulled it for violating a court order that reinstated Ngwele.
On Friday, Lady Justice Hellen Wasilwa stayed orders revoking Gichana's appointment.
"The application is certified urgent. In the interim, prayer one is allowed... The prayer for grant of conservatory orders staying termination of the applicant's employment vide the respondents letter dated August 6, 2020 is also allowed. The application be served upon the respondents and be heard interpartes on August 28 before the duty court," she ruled.
The ruling has further deepened the confusion over the substantive clerk of the assembly. Ngwele served as the clerk from 2013 to 2019 when he was dismissed by the assembly.
The assembly in 2019 adopted a report by the powers and privileges committee stating that he was irregularly appointed.
But Justice J Makau of Employment and Labour Relations Court declared that Ngwele's appointment was above board and reinstated him as cerk.
The court order also barred appointment of an acting clerk from November 25, 2019. Ngwele was, however, unable to access the office after a section of MCAs hammered wood planks on the door and ordered the sergeant-at-arms not to allow him in the assembly precincts. In July, the assembly advertised the position and appointed Pauline Akuku as interim clerk. This led to the appointment and swearing in of Gichana as the clerk on July 28.
Ngwele moved to the court to challenge the appointment and sought orders to be reinstated as the substantive clerk.
On August 5, Lady Justice Onyango nullified Gichana's appointment and asked Ngwele to step aside pending determination of the case. The judge further ordered the deputy clerk to take over functions of the clerk until the petition is determined.