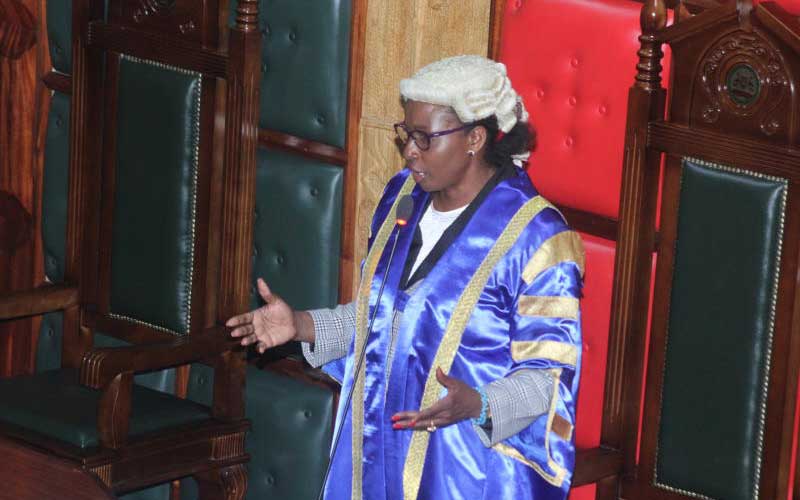 A former Member of Parliament and an ex-speaker are among seven candidates seeking to fill the position of the Nairobi County Assembly Speaker.
The plum post fell vacant on Tuesday after Beatrice Elachi resigned in a huff citing a charged, poor working environment characterised by chaos, threats and constant fighting.
Bernard Mutura, a former Member of Parliament for Makadara constituency, has been shortlisted for the elections set for Friday afternoon, August 14.
The other candidates in the race are former speaker Alex Ole Magelo, former Nairobi County Assembly Deputy speaker Ken Ngondi, Dr. Washington Makodingo, Abdi Ali Abdi, Mike Obonyo Guoro and Allan Chacha Mang'era.
Read More
The race has not attracted any woman. Beatrice Elachi was the first woman speaker of the city assembly.
Mr Mutura who served as MP between 2013 and 2017 goes into the election with the backing of the ruling Jubilee Party which enjoys a majority sitting at the county assembly.
As per the Standing Order 7, the election of the speaker is by secret ballot but the majority party has an influence on who takes over the seat, as members are whipped to support the party's candidate.
Dr. Washington Makodingo is the Nairobi County's finance and economic planning chief officer while Alex Magelo served as speaker of the assembly between 2013 and 2017.
During his reign, Magelo was deputised by Ngondi.
The acting county assembly clerk Pauline Akuku yesterday announced the vacancy in the office of speaker and gave interested candidates less than a day to submit applications to her office.
"The aforementioned documents should be hand-delivered to the Office of the Clerk of Nairobi City County Assembly, City Hall Building at least 48 hours before the day of the sitting of the Assembly pursuant to Standing Order (6) of the Nairobi City County Assembly Standing Orders," Akuku said in reference to filled and signed nomination forms and copy of curriculum vitae.
The speaker seat is currently being held by Ruai MCA John Kamangu who served as Elachi's deputy.