Badi tells off Sonko over Lavington residence, outlines Covid-19 containment measures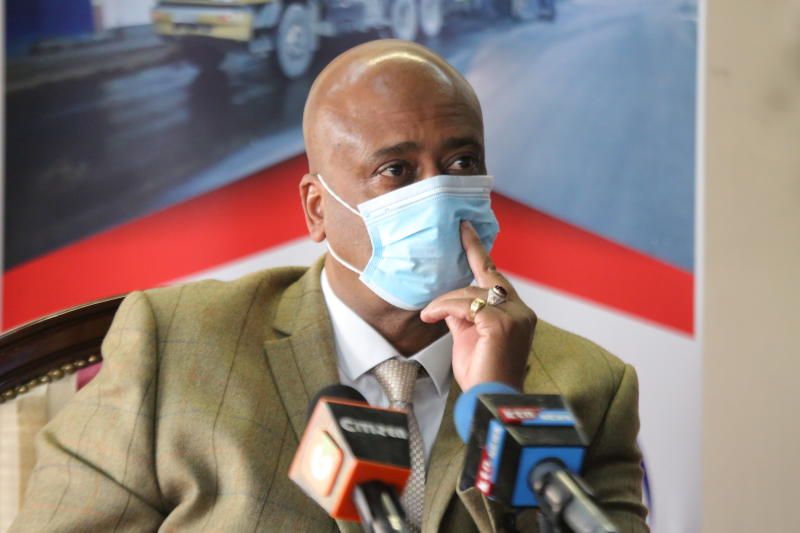 Nairobi Metropolitan Services Director General Mohammed Badi (pictured) has told off Governor Mike Sonko over the disputed former Mayor's residence in Lavington.
The duo has been embroiled in a battle for the house after it was formerly surrendered back to the County Government by the Ethics and Anti-Corruption Commission (EACC) early last week.
Major General Badi has, however, hit out at Governor Mike Sonko accusing him of politicizing the issue yet Land and Urban Housing and Planning were now a transferred function to the NMS in line with the deed of transfer agreement.
The DG noted that prior to the NMS repossessing the house, it had been vacant for two years but he did not understand why the Governor started politicking soon after he announced his intent to renovate all county houses and reclaim grabbed public land.
"I am not fighting the Governor because remember the house has been vacant for the past two years. So what is this hullabaloo that he all over sudden wants to enter that house?" posed Badi.
"The Lavington residence is not the only house we are repairing. There are several others but why Sonko picked (to feud) over that one I do not know and I cannot answer on his behalf," he added.
Speaking at his KICC office in Nairobi, the Army General emphasized that if Governor Sonko wanted to occupy the house, he would have to wait until the renovations by NMS are complete.
"We are taking up all county houses that have been dilapidated and we want to build them so that more staff will have more housing. If he (Sonko) wants to enter it he has to wait for us to rebuild it and he can enter it. After all, it belongs to the County," stated the DG.
The tussle between the two began on Tuesday last week after Governor Sonko announced that that he had repossessed the former Mayor's residence after it was surrendered by the Ethics and Anti-Corruption Commission (EACC) and announced plans to renovate the house for it to serve as the official residence of the Governor.
"It is ridiculous for Badi to claim that my official residence is his own property, unless he has a plan to grab the property as was the case before," said Sonko.
On Thursday, Major General Badi, however, warned Sonko that the property was under the Nairobi Metropolitan Services adding that he would not allow the governor to reside in the house. He consequently stationed police at the property to guard it.
At the same time the NMS has announced a raft of measures it is implementing in Nairobi County in the fight against the Covid-19 pandemic.
Director of Health Services at NMS Josephine Mbae, on Tuesday noted that they are putting up a makeshift facility at Mbagathi Hospital with 160 beds in collaboration with the University Enterprise Unit, UNES and this facility should be ready by next week.
Additionally, another 20 treatment beds have been set up at Mbagathi Hospital and the NMS is in the process of renovating block A and B to give a capacity of 78 beds for treatment with 10 of them being for ICU.
"At Mama Lucy hospital we are in the process of procuring beds and other equipment to have a 70 bed capacity facility and 18 ICU beds with the new block. Moreover, we are in process of setting up makeshift facilities at Mutuini Hospital with 100 bed capacity, a 400 beds facility at Kasarani centre and another at Mama Lucy treatment Centre, "said Mbae.
She further revealed that many of the infected are in the community and consequently the NMS has set up one isolation centre and two quarantine centres.
"The isolation centres are for those people that are asymptomatic and are not able to do home isolation. We are however recommending home isolation for those who can due to psycho-social issues. As of yesterday we have discharged 1,200 people from home isolation," said Mbae.
For those not able to self-isolate, the NMS has set aside KMTC the Mary Griffin hostel which has 90 beds, St Georges High School with 400 beds, Moi Girls with 400 beds. Other centres being set up are in Nairobi School, Upper Hill, Kenya High school and Dagoreti high school.
Data relayed by the Ministry of Health indicates that Nairobi is the epicenter of the Covid-19 virus. As of July 27, 2020 there was 10,575 positive cases in the Nairobi with 134 deaths.