Sonko, Badi lock horns over mayor's residence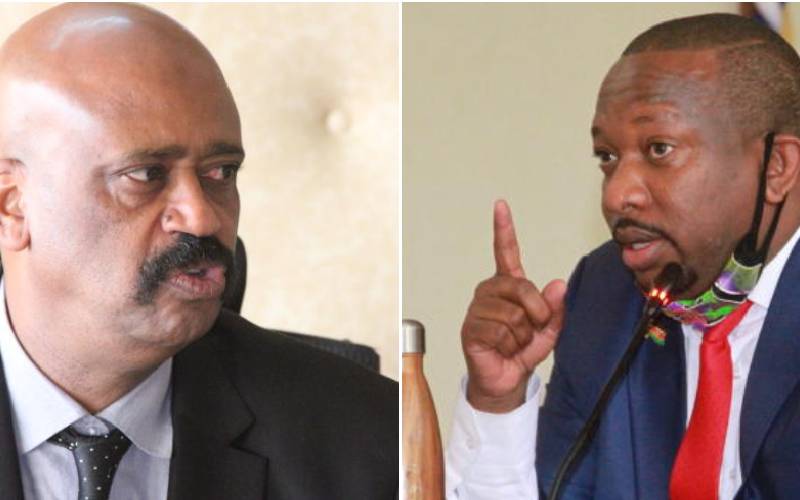 The supremacy battle between Nairobi Governor Mike Sonko and Nairobi Metropolitan Services (NMS) Director General Mohammed Badi has intensified, with the mayor's residence in Lavington being the latest bone of contention.
On Tuesday, Sonko announced that he had repossessed the house after it was surrendered by the Ethics and Anti-Corruption Commission (EACC). He immediately announced plans to renovate it and said it would serve as the official residence of the governor.
On Thursday, Badi warned Sonko that the property was under NMS in line with the deed of transfer agreement that saw the county cede four functions — health, transport, public works and planning — to the agency.
Badi, who was in Westlands to reclaim grabbed Gigiri Fire Station, said he would not allow the governor to reside in the house and that security had been deployed to guard the property.
Sonko later hit out at Badi, accusing him of impunity, ignorance and going against the deed of transfer agreement.
The house in dispute is located on Isaac Gathanju Road and is owned by the Nairobi County Government.
The house is no stranger to controversy. In 2018, the Nairobi County Assembly announced plans to renovate it for Nairobi County Assembly Speaker Beatrice Elachi.
The City Assembly Service Board said it had resorted to have Elachi occupy the house due to budgetary constraints, which made earlier plans to build a mansion for the Speaker untenable.
The plans to refurbish the house saw the eviction of Anne Lokidor who served as the ICT executive under the former governor. She had been living in the house since 2016, paying a monthly rent of Sh35,000.