Governors' no to lockdown as they meet Uhuru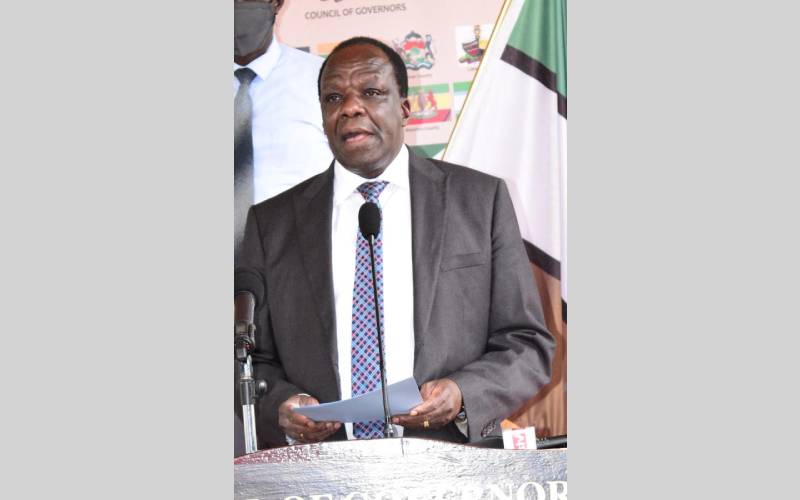 Governors are opposed to a return to partial lockdown but are instead rooting for strict adherence to Ministry of Health guidelines in fighting the Covid-19 pandemic, Council of Governors chairman Wycliffe Oparanya (pictured) has said.
Mr Oparanya told The Standard yesterday that in their meeting with President Uhuru Kenyatta today, governors will impress upon the national government to release the delayed share of revenues to counties to enable them fight the pandemic.
He said the feeling was that people were slowly resuming their economic activities and are beginning to meet their responsibilities.
"To force them back to their homes is not solving the problem given that the country is not ready to provide essential commodities to people during lockdown," Oparanya said.
He said Kenyans should be allowed to go about their daily activities but strictly adhere to the laid down procedures in fighting the virus.
"Despite the stringent measures on Covid-19, the political class remains the weak link in this fight since they are flouting the rules. Let politicians lead Kenyans by abstaining from attending physical meetings, and be deliberate on social distancing among other guidelines," Oparanya said.
Today's meeting, which will take place virtually, was scheduled for Friday last week but State House postponed it at the last minute, citing the need for more time for consultation to come up a more unified response by the national and county governments.
Oparanya said the council will also be reinforcing the need to disburse the county's equitable share of revenue because delay in doing so has grounded many operations within counties, including the fight against Covid-19.
"We are going to speak with the president with a united voice. Despite the end of the financial year 2019/2020, counties are yet to receive the June and July disbursements.
Further delay will not only affect payment of staff salaries but also negatively hinder timely response to Covid-19," Oparanya said.