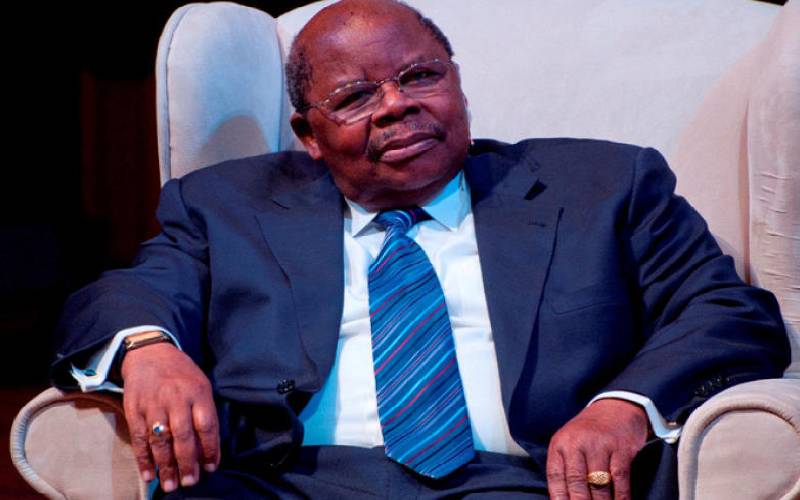 President Uhuru Kenyatta has declared three days of national mourning with flags set to fly at half-mast during the period following the death of former Tanzania President Benjamin Mkapa.
"In the testimony of the high esteem in which the People of Kenya hold Mkapa (pictured), the Republic of Kenya will observe a period of three (3) days of national mourning," President Uhuru said in the Friday proclamation.
The directive will also apply to other facilities including Kenyan embassies, High commissions, Embassies, Consulate and Diplomatic offices abroad.
"The flag of the East African Community and the Flag of the Republic of Kenya shall be flown at half-mast at all Public Buildings and Public Grounds, and wherever else throughout the entire territory of the Republic of Kenya and at all of Kenya's Diplomatic Missions abroad; from July 27 to July 29," he added.
President Uhuru said the directive is a mark of respect and gratitude for the sterling role Mkapa played in fostering cohesion within our own Nation, and in light of the high esteem he is held in our Nation as a true friend of Kenya, and in recognition of his immense contributions to the restoration of the dream of the East African Community (EAC).
He hailed the late Mkapa for his role in the mediation process following the 2007/08 election dispute in the country.
"In Kenya, we shall forever be grateful for the pivotal role played by the Late President Mkapa in the mediation process that ended the 2007/2008 post-election violence and political impasse that resulted thereafter," President Uhuru said.
"Our Nation's peace, reconciliation and greater unity can be directly linked to the spirited actions, wisdom, mediation and sacrifice of the Late President Mkapa and his colleagues on the Panel of Eminent Persons."
Mkapa has died at 81 in a Dar es Salaam hospital. In his brief address, President John Magufuli referred to Mkapa's death as a great loss to Tanzania.
''I am saddened by the death of Benjamin Mkapa, the third President of Tanzania, I will remember him for his dedication to the nation and the growth of the economy,'' Magufuli said.
President Magufuli has already declared a seven-day mourning period with flags flying at half-mast.
Mkapa was last seen publicly in high spirits on July 11, 2020, during Chama Cha Mapinduzi National Congress in Tanzania's capital Dodoma where President Magufuli who was also present was fronted as the party's flagbearer in the coming elections.