Polluters to be seized as Michuki Park opens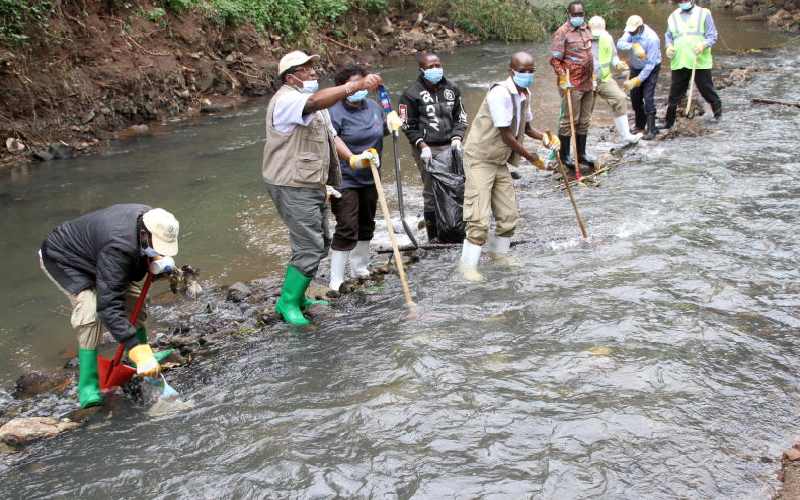 The Michuki Memorial Park in Nairobi is in its final phase of restoration and will be reopened to the public soon, Environment and Forestry Cabinet Secretary Keriako Tobiko has said.
The once dark and filthy section of the Nairobi River, which runs through the park, has now turned clear and its infamous stench is gone.
Around the park, dozens of workers are toiling away, paving paths, planting grass and making other improvements in readiness for the reopening.
Already, the Kenya Forestry Service (KFS), the agency spearheading the rehabilitation, has fenced the park and planted trees. This KFS does after securing mandate over the park in April and receiving funding from the National Treasury.
"We underestimated the magnitude of the work, especially the stabilisation of the river banks," said Tobiko during a visit to the park to assess the progress of the cleanup of Nairobi River yesterday.
The CS noted that major improvements had been recorded since the launch of the clean-up exercise a few months ago.
Dumpsite
"When we came, the river was terrible. The stench was unbelievable. We found bodies dumped into the river. You could not access it. But the quality of the water has improved. It is almost as clean as tap water," he stated.
On completion of work, the park will be reopened and will serve as a recreational zone and educational centre.
Tobiko added that after the completion of the Michuki Memorial Park, attention would shift to reclaiming and improving other green zones within Nairobi since President Uhuru Kenyatta is intent on increasing green spaces around the city.
To ensure the gains made so far in cleaning Nairobi River are protected, Tobiko announced the launch of a 90-day crackdown on individuals and companies polluting Nairobi River, to be spearheaded by the National Environment Management Authority.
According to Tobiko, a crackdown on the polluters of Nairobi River is necessary as the cleaning and maintenance of the river, which began over two years ago, has largely been hindered by the pollution in informal settlements.