Gathungu sworn-in as new Auditor General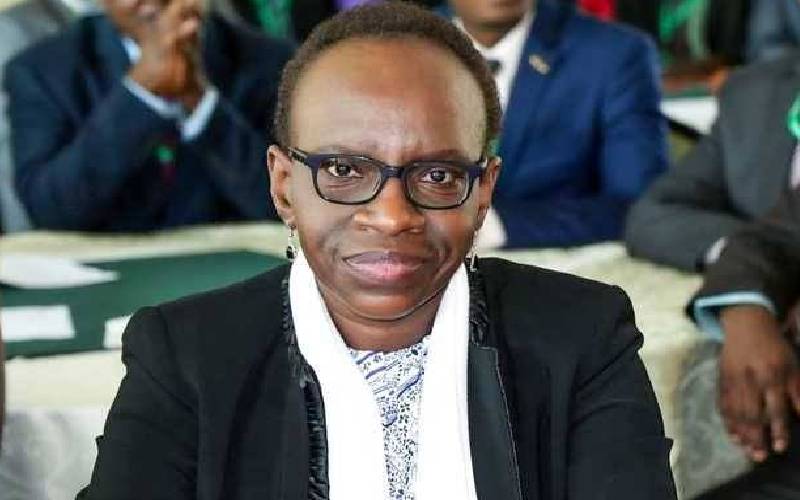 New Auditor General Nancy Gathungu has been sworn in ending the country's a year-long long wait for Edward Ouko's replacement.
Gathungu (pictured) was on Friday sworn it at the Supreme Court in a ceremony presided over by Chief Justice David Maraga.
Speaking during the ceremony, Gathungu said she was honoured to take the oath of office as the new Auditor General of the Republic of Kenya.
In what appeared to be a response to MPs, Gathungu said her first duty will be to put up mechanisms to clear the audit backlogs occasioned by the delay in naming Ouko's replacement.
"Owing to the gap that existed between Ouko's exit and my assuming of office, I strive to clear the audit backlog as soon as possible so that entities can call their annual general meetings, development partners can get feedback on the spending of projects they support and for Kenyans to know how their resources are managed," she said.
She promised to work in consultation with other arms of government to guarantee Kenyans accountability and safeguard the independence of her office.
"We will look up to the Judiciary, Parliament and the Executive to safeguard the independence of the office," said Gathungu.
She hailed Ouko for doing a good job as Auditor General and promised to ensure his legacy is built and improve on four pillars: independence, credibility, relevance and accountability.
The lack of a substantive Auditor General since Ouko left had complicated financial planning and reporting for State corporations and NGOs.
While approving Gathungu, MPs led by Public Accounts Committee chairman Opiyo Wandayi said the incoming Auditor General should immediately sign off and release the 2018/19 audit reports to enable Parliament and the county assemblies to play their oversight roles in public funds expenditure.
Constitutionally, the release of these reports and their presentation to parliament is behind schedule.
The MPs also wanted Gathungu to facilitate the completion of the pending special audits as directed by the National Assembly.
"Her appointment was long overdue as there are many pending audit reports awaiting her signature," said Wandayi.
Some of the special audit requests include- the special audit on land compensation for the SGR project and procurement of foodstuff by the Ministry of Defense, the special audit on the Lake Turkana Wind Power (LTWP) project to establish the cost of the Loiyangalani- Suswa power evacuation line among others.
She was approved by the National Assembly after two days ago paving way for her swearing-in.
Despite being among the 17 nominees that Sammy Onyango-led selection panel declared not qualified for the job, Gathungu later emerged top in fresh interviews conducted by the same panel.
She is currently the Director of Audit at the Auditor-General's office, a position she has held since February 2014.
Gathungu also served as deputy director of audit.