Dilemma in re-opening places of worship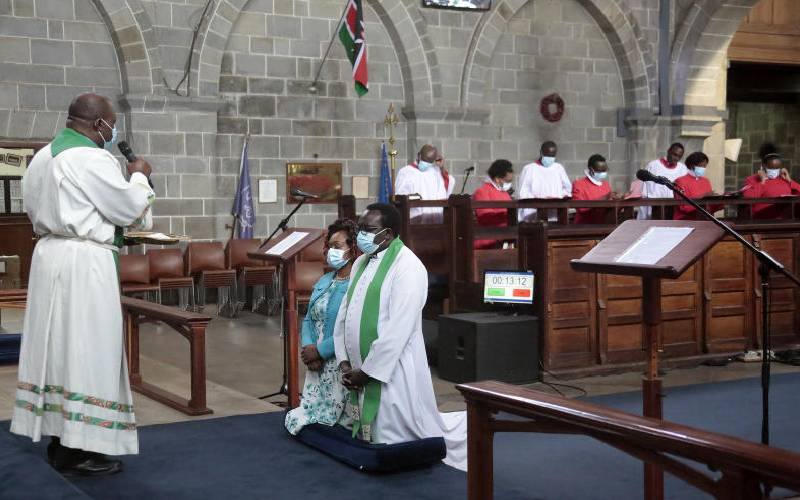 Places of worship are expected to be re-opened tomorrow in accordance with the protocols laid down by the Inter-faith Council.
As it is a majority of these holy grounds continue to face dilemmas on how they will manage the congregations that might seek to access churches, mosques and other places of worship.
However, a number of these religious places have already issued a statement that they will not be re-opening anytime soon.
Jamia Mosque, All Saints Cathedral, CITAM, Parklands Baptist Church (PBC) and Jubilee Christian Church are among places of worship that vowed not to reopen citing 'impractical measures.'
In a statement, Jamia mosques officials relayed their concerns over the reopening.
"This is because the guidelines issued to limit prayers to only 100 persons per session are not practical for Jamia Mosque Nairobi given its centrality in the Central Business District of the capital city," the Jamia Mosque Committee said in a statement.
Jamia Mosque is one of the biggest mosques in the country and can accommodate 5000 worshippers per session. Going by the recommended social distancing rules, it can accommodate 1700 worshippers with a support staff of 120.
According to Hassan Ole Nado the chairperson of SUPKEM, re-opening of the mosques has brought about three dilemmas.
One is to allow worshippers to come in with their praying mats but hygienically there is a likelihood of transporting the virus from wherever they come from.
The second dilemma is where by people pray on the floor without mats which brings in a challenge of continuously cleaning the mosque after people leave.
The third dilemma being, providing temporary mats which will be disposed at the end of each prayer but this brings in the economic feasibility aspect.
Earlier last week the Interfaith Council proposed a four-step phased reopening of places of worship beginning on Tuesday, July 14, 2020, in strict conformity with the Ministry of Health guidelines.
However, the Interfaith Council chairman Archbishop Anthony Muheria was cautious as he gave the announcement imploring churches to follow the guidelines strictly.
"Please let us not rush without preparations," he implored. "We understand the great eagerness and the longing we have, but with some patience and preparations we can safely reunite, soonest possible in our places of worship."
The Catholic Church through the Archbishop of Nairobi John Cardinal Njue however, promises to welcome faithful's this coming Sunday but under the strict guidelines from the Ministry of Health.
Some of the highlights that will be followed include; all windows and doors to be kept open during congregational worship, Offertory boxes to be at fixed positions and not circulated, anointing to take place using cotton wool which is to immediately be disposed after use and anointing of the sick limited to those dying or about to undergo serious surgery.
"There was wisdom in setting controls because infections are going up. I being a Covid-19 survivor I wouldn't be the advocate to bring thousands of people here. It is wisdom at all," Reverend canon Sammy Wainaina of All Saints Cathedral said.
On July 6, President Kenyatta announced the phased reopening of places of worship in the country in compliance with the set regulations for public gatherings.
He said persons under the age of 13 years and those over the age of 58 as well as those with underlying health conditions shall not attend worship, also extending the suspension of Sunday schools and madrasas "until further notice."