Uhuru pledges to support Malawi president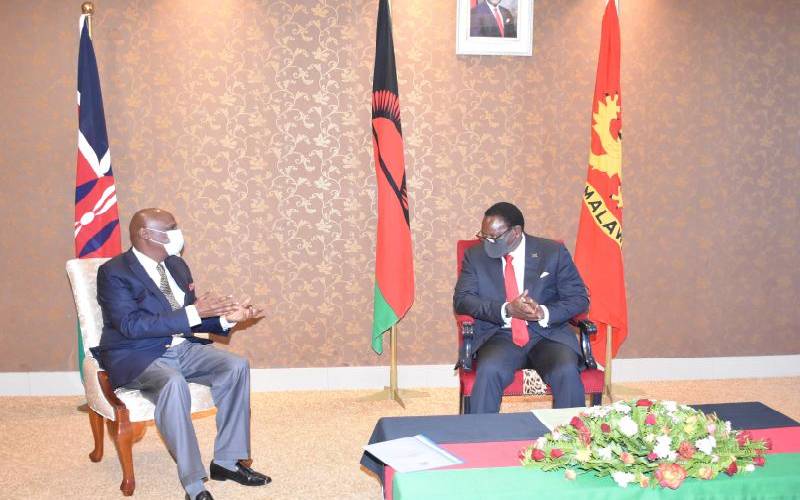 President Uhuru Kenyatta has assured Malawi President Lazarus Chakwera of his support as he begins his tenure.
In a good will message delivered by Baringo Senator Gideon Moi, who joined a section of African leaders to witness Chakwera's inauguration in Lilongwe on Monday, President Kenyatta wished Chakwera success in delivering his promises and meeting the expectations of Malawians.
Gideon was accompanied by Foreign Affairs Chief Administrative Secretary Ababu-Namwamba and Kanu Secretary General Nick Salat.
Chakwera won the presidential election re-run with 58.67 per cent of the vote, reversing the fortunes for former President Peter Mutharika. Mutharika's victory in the May 2019 election was overturned by the court.
Uhuru commended the government and people of Malawi for navigating the unprecedented exercise. In his message, he said Chakwera's victory is a clear testimony of the trust the people of Malawi have in his leadership and policies in his manifesto.
Uhuru expressed his confidence in Chakwera, saying he has no doubt that he will see Malawi soar higher regionally and globally.
Bilateral co-operation
"As you assume the responsibilities of this high office, I wish you every success in delivering on your promises and meeting the expectations of the people of Malawi as you steer the country towards continued peace, stability, development and prosperity," Uhuru's statement read.
He also committed to work with Chakwera to consolidate bilateral cooperation between Kenya and Malawi. On his part, senator Moi also congratulated Chakwera on his victory, saying African countries have the capacity to overcome the economic ills it has been facing over the years.
"The economic ills we suffer in many of our countries have come upon us over several decades. They may not go away in days, weeks or months, but they will go away. They will go away because we as Africans have the capacity now, as we've had in the past," he said in his statement.
Gideon said even in the presence of Covid-19, the continent will overcome challenges it has been facing. He called on all their leaders to re-embark on building their nation and create a flourishing economy with opportunities for all to thrive.
"I urge all Malawians to join hands with your leaders to re-embark on building your nation and create a flourishing economy with opportunities for all to thrive," he stated.