Uhuru's Covid-19 dilemma : Open the country and cases go up, extend containment and the economy sinks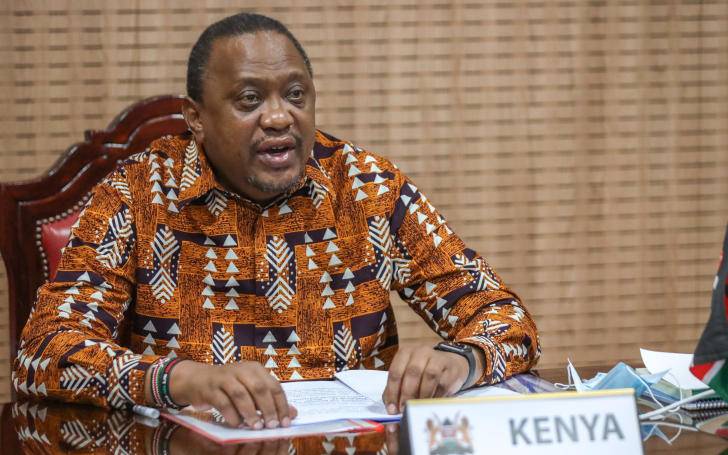 Kenyans are keeping their finger crossed as they wait for President Uhuru Kenyatta to address the nation on Covid-19 pandemic today.
It is now a month since the President addressed the country on the coronavirus safety restrictions on June 6.
Most Kenyans had hoped that the President would lift restrictions of movement in and out of four counties (Nairobi, Mombasa, Kwale and Kilifi) as well as lifting dusk to dawn curfew on June 6.
He, however, only unlocked Kwale and Kilifi counties but extended the curfew and cessation of movement in Nairobi and Mombasa citing a surge of infections in two cities as he extended the restrictions for 30 days more.
Kenyans whose income sources have been disrupted by the safety policies coiled back in disappointment as the State rolled out various plans to return to 'new normal.' The President in his last address announced a consultative meeting between clerics and stakeholders from the business sector and the Emergency Response Committee. The Committee was spearheaded by the Council of Governors and the Ministry of Health. The team has been involved in driving the country on the recovery path from the pandemic.
But inside this war is a Head of State caught up in the dilemma of trying to strike a balance between economic recovery and cutting the spread of the virus. In the past 30 days, the country's viral caseload stood at around 2,600.
The cases have since shot up by over 100 per cent reaching 7,886 as of yesterday, July 5. Kenya at the moment ranks at number 10 in Africa and number 73 worldwide on the worldometers.info as far as coronavirus infection is concerned.
So grim is Kenyan infection rate that Rwanda and Libya, which registered the first cases before Kenya's first case, March 13, are still at 1,105 and 1,046 cases respectively.
Health Chief Administrative Secretary Dr Rashid Aman on July 2, while addressing the press on daily update attributed the surge in numbers to increased testing capacity. But Dr Aman also could not hold back as he warned Kenyans against laxity on observing the safety rules. With Kenya losing 160 people to the bug as of July 5, Dr Aman gave a reassuring statement that Kenya's death rate was rated at 2 per cent, half of the global mortality rate (4 per cent).
Studies on low-income areas
On the other side of the coin is the growing frustration among Kenyans especially those whose livelihoods have been ruined by the restrictions. Kenyans working in the transport sector, hotels and restaurants, bars, casual labourers, and event planners are at their lowest economically. A TIFA round two survey released on July 5 also revealed that low-income earners in Nairobi have been hit hard and are yearning for easing of lockdown and curfew.
Speaking to the Corporate Council on Africa's Inaugural Leaders Forum, President Uhuru hinted at the possible resumption of domestic flights as the country gears towards opening the economy.
"We are going to start domestic flights and this is what we are going to use as a trial over the next couple of days because we are opening up lockdown we have had between counties," he said.
Kenya is now faced with two choices with unknown consequences that some countries have undertaken but with not so impressive results.
South Africa
Stung by the coronavirus which was spreading at an alarming rate, South African President Cyril Ramaphosa ordered a lockdown and curfew in March where citizens were only accorded time to buy food and medicines.
Nonetheless, to avoid economic shrink, President Ramaphosa engaged in slow ease of restrictions to open up the economy which, according to experts, could scale up the infections. On July 2, Thursday, South African press reported that the country could be forced back into restrictions after a number of cases rose. The country tops African chart in terms of infections with 196, 750 cases and 3,199 deaths. According to the South African Centre for Epidemiological Modelling and Analysis, the cases will shoot until the country's peak is expected in July and August where '35,000 to 50,000 South Africans could die from the virus.'
Other countries
It is the same tough fate that befell Germany on June 25 after her government engaged gears to relax the coronavirus restrictions. The country witnessed a surge of over 36 per cent in just one week. This same situation occurred in Ukraine and the USA where infection rates shot up by 29 per cent and 24 per cent respectively.
Other countries that witnessed a sporadic increase in infections after revising their Covid-19 rules include Switzerland, Bangladesh, France, Sweden, Iran, and Indonesia.
WHO's advice
While addressing a press conference back on April 10, 2020, World Health Organization chief Dr Tedros Adhanom Ghebreyesus urged for slow and monitored lifting of restrictions.
"Lifting restrictions too quickly could lead to a deadly resurgence," he said.
"The way down can be as dangerous as the way up if not managed properly."
Five days later, on April 15, WHO then gave simple steps to be followed when easing restrictions. They are:
1. Ensuring that disease transmission is under control
2. Ensuring health systems are able to "detect, test, isolate and treat every case and trace every contact"
3. Ensuring hot spot risks are minimised in vulnerable places, such as nursing homes
4. Schools, workplaces and other essential places have established preventive measures
5. Ensuring the risk of importing new cases "can be managed"
6. Communities are fully educated, engaged and empowered to live under a new normal.