EACC locked out of Sonko city office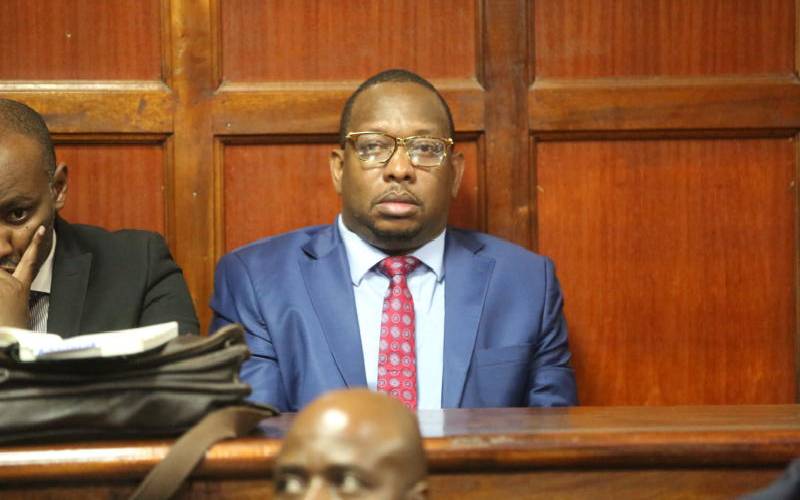 Drama ensued at Nairobi Governor Mike Sonko's (pictured) Upper Hill offices yesterday after officers from the Ethics and Anti-Corruption Commission (EACC) sought to inspect the property.
The detectives, who were accompanied by a contingent of more than 30 police officers, sought to carry out an inspection and valuation of the land on which the governor's office sits and which is estimated to be worth approximately Sh500 million.
Police officers had arrived at the compound at around 1 am, but there was a push and pull as the officers were resisted by Sonko's supporters. After a three-hour standoff, the officers left without achieving their mission.
The EACC detectives told the Nairobi Governor's aides that they had come to assess the actual size of the one-acre plot.
Accompanied by valuers, the sleuths showed a warrant issued to EACC investigator Christine Nthiga on June 23, 2020, by a Nairobi Chief Magistrates Court, adding that they had orders to conduct a valuation of the property.
Nthiga, the EACC Assistant Director in charge of Forensic Investigations Nthiga, had written to the Kenya Railway Staff Retirement Benefits Scheme (KRSRBS) last month, requesting them to appoint an officer to join in the valuation process.
Yesterday, Sonko said nobody had stopped the officers from accessing the property.
"The officers are welcome to conduct their investigations without any showmanship. Let them follow the right procedure and come back," said Sonko.
EACC Communications Director Yassin Amaro said the detectives were not on an eviction mission.
"It was not an eviction but an inspection," he said.