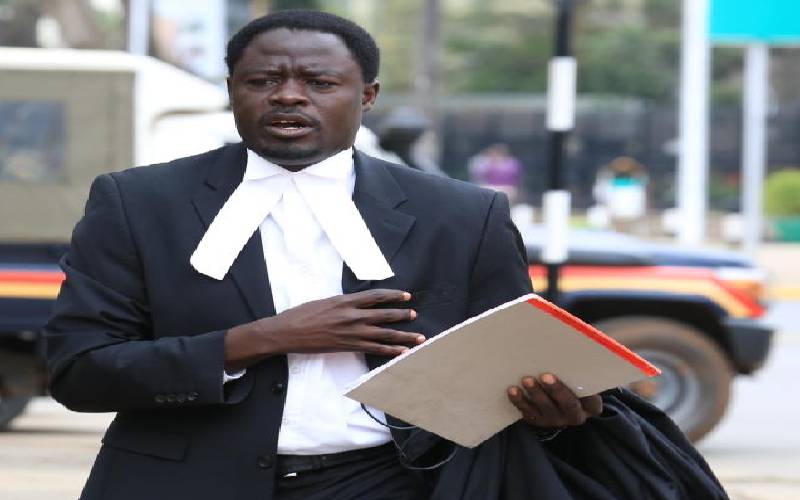 City Lawyer Steve Ogolla has said failure to renew a Practising Certificate cannot stop any sitting MP who is a lawyer by profession from serving in the two Houses legal committees.
Ogolla who spoke to Standard Digital on phone said the qualification for one to serve in the legal committees is a degree in law and not a PC.
Ogolla was responding to claims by the Law Society of Kenya (LSK) chairman Nelson Havi on Saturday who called for the arrest of Homa Bay Town MP Peter Kaluma for practising law without a Practising Certificate (PC).
Ogolla cited Nandi Senator Samson Cherargei who chaired the Senate Legal Committee until recently yet he is not an advocate, but has a law degree which is the requirement.
"Failure to renew your PC does not stop a lawyer from being a member of a Legal committee in the House, the only requirement for one to serve is a law degree," he said.
He also said to renew or not to renew a PC is a personal choice of any lawyer and cannot be an offence, adding that one only get out the certificate for the period he or she feels he will be active.
He said a lawyer without the PC cannot go to court and represent clients, administer oaths and certify documents, but can still give legal advice, do consultancy and even work in a legal department.
Havi had also questioned how the MP is serving as a member of the National Assembly's Legal Affairs Committee yet he has not renewed his Practising Certificate for two years now.
"They should first arrest and prosecute you for practising law without a Practising Certificate. How can you even be member of Justice and Legal Affairs Committee of the National Assembly when you have forgotten your professional duties and roles," Havi tweeted on Saturday.
From the LSK register that he shared online, the Homa Bay Town MP is yet to renew his PC since last year, and according to the latter, Kaluma is not qualified to comment on matters law.
Kaluma's response
Kaluma, however, dismissed Havi's remarks as cheap, saying he (Havi) has lost direction as LSK chair and needs advice on how to head a professional body like LSK.
"The other day he wanted to impeach the President Uhuru Kenyatta Where did this go? He sought to debar the Attorney General and Solicitor General, where did this go? The guy is all hot air," Kaluma said.
The Homa Bay Town MP said it was none of Havi's business if he had a PC or not, adding that Havi is championing the interest of cartels defrauding the public in the legal system.
"Whether and when I take out practising certificate is my discretion and personal business. We must destroy the cartel defrauding the public in the legal system whose interest he currently appears to champion," Kaluma told Standard Digital on phone.
"We supported his election with great hopes for young leadership. He has joined the club of crooked lawyers and is disappointing us fast," he added.
All lawyers who want to be active in practice must renew their Practising Certificates by paying Sh26,000 annually.
Havi had slammed the MP while responding to one of his tweets over the fake tendering surrounding the maize supply which landed Sirisia MP John Waluke in jail.
"Consideration is a mandatory requirement of all contracts absent which a purported contract is not enforceable. Fraud vitiates contracts. No single grain of maize was supplied. Arrest the Advocates, the Arbitrator and all judges who sought to enforce/defend this patent fraud," Kaluma had tweeted.