For better, for worse: Waiguru's husband steps up to defend her honour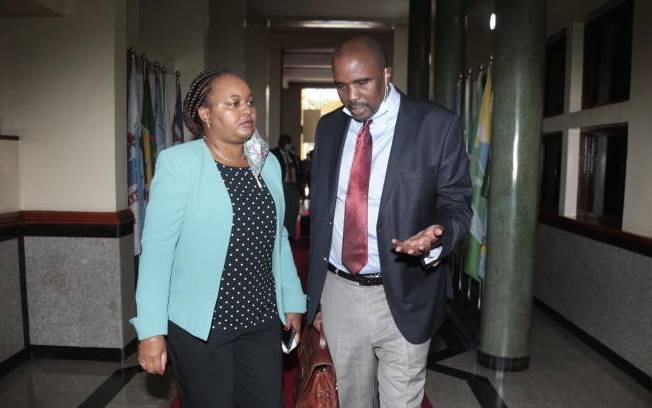 As Governor Anne Waiguru calmly played solitaire on her phone on Tuesday, her better half, lawyer Kamotho Waiganjo, seemed to be sitting on a seat full of thorns.
Waiganjo seemed all keyed up, even as his dearly beloved wife-cum-client calmly tried to up her solitaire scores.
None of the 'Velocity - Velocty' talk around her seemed to interest her one bit. Her sweetheart Waiganjo was, however, a restless man – the kind of restlessness borne out of deep care.
But how else would he feel? The love of his life was going through a low moment, and Waiganjo had to stand by her side. He had promised to be there – for better or for worse, in good times and in bad, till death do us part?
Lawyers know a thing or two about vows. They spend their lives taking and prescribing them. Waiganjo was not about to betray the solemn vow he had made last year in a traditional marriage ceremony held in Gichugu, Kirinyaga County.
Kirinyaga, it is believed, is the dwelling place of the Agikuyu gods. Waiganjo made those vows right at the feet of the gods. He was not about to take the gods on by breaking an oath he had sworn under their watchful eye.
Members of the Kirinyaga County Assembly had promised an apocalyptic end to his wife's career. Further, they had threatened a series of impeachments if Senate clears her.
But they will have to pass through Waiganjo. From his demeanour, he was not letting them bully his wife around.
Of all the people who sat in that hearing, he probably spent the least amount of time seated.
When he was not reaching out to the impeached governor, he was whispering something in his co-counsel, Andrew Karani's ear.
He made frequent trips to the front bench.
But he was not always as patient as to consult his fellow lawyer. On numerous occasions, he could be heard through his colleague's microphone, though he sat one bench behind him
The teacher of law was anxious, but his darling clearly trusted him. Perhaps he should have shared in her faith.
He was eager to defend her against all adversity and constantly seemed impatient for his turn to speak, even when Karani, the defence lawyer, appeared to be doing a fairly good job, nudging Mutira ward rep David Kinyua on the witness stand.
It was clear that Waiganjo wanted so badly to take Kinyua's testimony apart; to light a fire under the ward rep's comfy seat.
Unlike everyone else who had made their submissions seated, Waiganjo opted to stand, like a man would for those he loves, his voice booming in the hearing chamber.
The sight must have been pleasing to Waiguru: She was in a safe pair of hands. She could count on a defender who would not waiver in securing her honour. Ah, what a man!
Yesterday, though, Waiganjo was calmer and less agitated. But the concern was still there. His eyes still wore that sombre look.
This was understandable; it was his wife's job and honour at stake. Even worse, it was his former student, Ndegwa Njiru, the ward reps' counsel playing the oppressor.
Of all the blows life could deal, it had struck low, aiming for his softest spot. All he had wanted was a happily ever after. Alas, life had other plans.