Alert over new swarm of locusts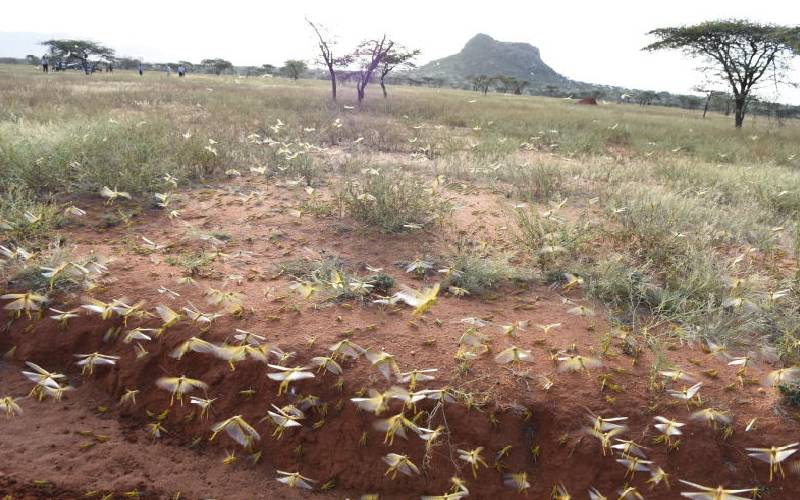 An increasing number of second-generation immature swarms continue to form in northwest Kenya, Food and Agriculture Organisation (FAO) of the United Nations has warned.
FAO said the bulk of swarm formation was likely to occur during the next two weeks, before a decline in July.
"Before migration, swarms will remain for a short time during which there is a considerable threat to crops and pastures in Turkana and Marsabit counties," FAO said in a statement.
Thereafter, the swarms are expected to migrate northwards to the summer breeding areas in Sudan and Ethiopia, where they will mature quickly and lay eggs.
"Some of the swarms will take about a week to cross South Sudan to reach South Kordofan and South Darfur, while other swarms will move north to east and northern Ethiopia," the statement reads.
East Africa has been experiencing a desert locust outbreak of an unprecedented nature, according to FAO.
The outbreak, which began in January 2020, is now in its second phase, with the agency projecting that this phase could be 20 times worse than the first one.
Already tens of thousands of hectares of farmland and pasture have been damaged by locusts in Djibouti, Eritrea, Ethiopia, Kenya, Somalia, South Sudan and Uganda.
FAO estimated that 20 million people were food insecure in the mentioned East African countries and that the number could go up to 34 million or more in coming months due to the impact of Covid-19, locusts and flooding.
"These shocks do not just have immediate, short-term effects, they exacerbate prevailing food insecurity and undermine livelihoods and development gains that took years to build," said FAO.
World Food Programme anticipates a localised impact on the harvest, though at this stage the impact is still uncertain pending control operations, locust surveillance and other factors such as wind and weather conditions.