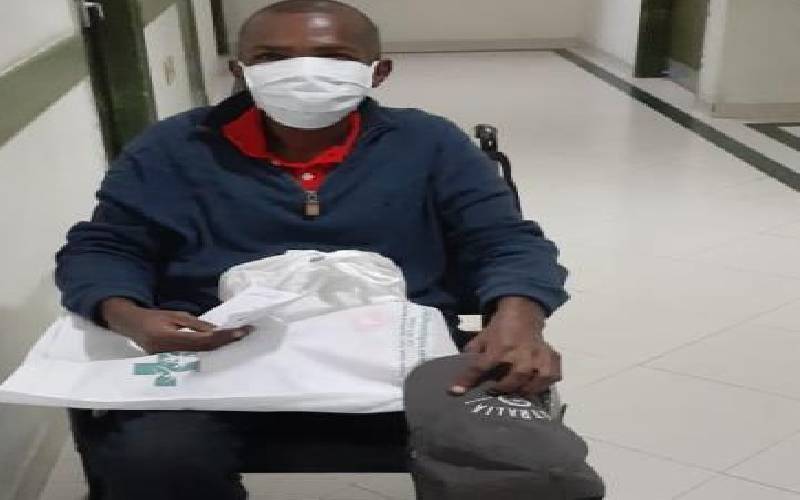 Today at around 1pm, a Kenya Airways flight KQ 224, full of Kenyans returning home from India, will touch down at the Jomo Kenyatta International Airport (JKIA) in Nairobi.
However, one Daniel Mbugua, who had desperately wanted to be on that flight, will be missing. After six months in New Delhi, much of that time spent in a hospital bed, where he was diagnosed and treated for Non-Hodgkin's lymphoma, a cancer of the lymphatic system, Mbugua can only hold on to hope to one day return home.
He had envisaged stepping off the plane at JKIA, inhaling the welcoming cold June air of Nairobi as he walks briskly, his body soaking in the mild sun rays.
His trip to India was not exactly a happy one, but it offered hope that doctors would finally figure out what was ailing him and give him the required treatment. And when he got the news that he was cancer free, Mbugua was keen to travel back home and carry on with his life, which had been interrupted by the disease.
Read More
But he could not. As he was sitting through the chemotherapy session to burn out the cancerous cells from his body, coronavirus had invaded the world.
When he arrived in India on December 25, accompanied by his elder sister, the country was yet to report its first case of the coronavirus. When he was discharged in late April, India had long imposed a lockdown and so had Kenya, and flights in and out of the two countries had been stopped and borders closed.
Repatriation flights
Mbugua and hundreds of other Kenyans in India were left on their own with no means to travel home. His only hope to get out of India was to get a seat in one of the repatriation flights arranged by the Ministry of Foreign Affairs, which have been few and far between.
The foreign affairs office has so far arranged two flights from Mumbai to Nairobi. The first repatriated 232 Kenyans on May 7, and the second leaves the Indian city this morning.
For the flights, the passengers were required to pay between Sh67,500 for an economy class ticket and Sh95,000 for a business one. They were also required to provide a clearance certificate from accredited health facilities and undergo a 14-day mandatory quarantine once they land home.
The problem was not that he could not afford the ticket, the flight was fully booked within hours of going live on the Kenya Airways website.
"The flight became live on the Kenya Airways website on Wednesday night. I tried booking from then and even told my family back home to try and book me a ticket, but they were unsuccessful," he said.
In between trying on the website, they made incessant phone calls to representatives of the airline and it was not until Friday that they got the news that the flight was fully booked.
As Mbugua was desperately glued on the Kenya Airways website, praying for a seat to miraculously turn vacant, Wallace Kimani was also clutching on the same straw in the same city.
Like Mbugua, Kimani arrived in India in January for cancer treatment. He had oesophagal cancer and was declared cancer free in April. He was unable to get a plane home. Hundreds of other Kenyans face similar dilemma.
India has been the preferred destination for their afflictions, but the coronavirus and the lack of flights have erased their hopes by the day. India now has the fourth highest number of Covid-19 cases in the world, trailing only the US, Brazil and Russia, with more than 410,000 confirmed cases and more than 13,000 deaths.
"I was discharged two months ago, but together with my wife, we have been staying in a guest house paying Sh2,000 per day," Kimani said. "However, getting food is even more expensive. Items such as mutton and chicken or even potatoes that we can easily afford in Kenya are more expensive here. We had only enough for the hospital costs and travel back home," he said.
Kimani has been lucky enough to get a ticket on Air India and will arrive in Nairobi on June 24.