Kibochi visits KDF troops in Somalia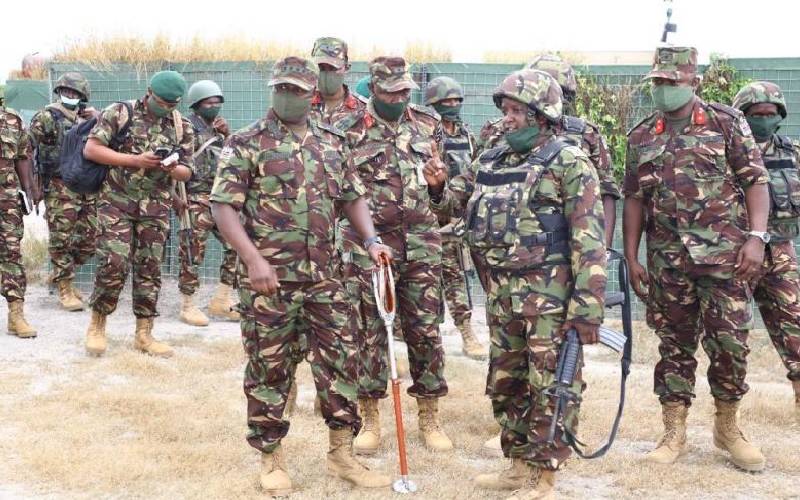 New Chief of Defence Forces Gen Robert Kibochi has assured troops in Somalia they will be sufficiently equipped to deal with the enemies they are facing.
Gen Kibochi was speaking at the weekend when he visited KDF troops operating under Amisom in Somalia.
"You are the arrowhead and we must sharpen the arrowhead. We shall do so by providing you with the right tools to perform your duties," he told the soldiers.
It was his 37th day as Chief of the Defence Forces when he met soldiers stationed in Afmadhow, Billis Qooqani, Tabda and Hoosingo.
Kibochi is supposed to be planning the exit of the troops from Somalia as per an earlier plan. But this is unlikely to happen on time, by 2021, given the prevailing conditions on the ground.
Incursion into Somalia
KDF went to Somalia in October 2011. Kenya's incursion into southern Somalia started after the kidnapping of two Spanish women, who were working for MSF at Dadaab refugee camp.
The abductions were carried out by the militants who the troops planned to push away under the Operation Linda Nchi. Two years later, the troops managed to take control of Kismayo port under Operation Sledge Hammer.
Kibochi's visit, according to soldiers, motivated the troops and reaffirmed the critical role they play in providing sustainable peace in Somalia.
KDF is racing to modernise its wares to meet the needs on the ground. Under this programme, Kibochi must ensure his officers have enough vehicles, planes and other modern equipment to help them stay ahead of enemies or threats.
Under the current budget, the military is set to get about Sh115 billion to continue with its programmes in 2020/21 financial year.
Kenya's military expenditure rose from Sh116 billion to Sh121 billion last year as the KDF raced to modernise its ware.
This is according to the National Treasury, which allocated the forces Sh23.7 billion in 2019/2020.