Yes, hear it from me, living with dwarfism is such a tall order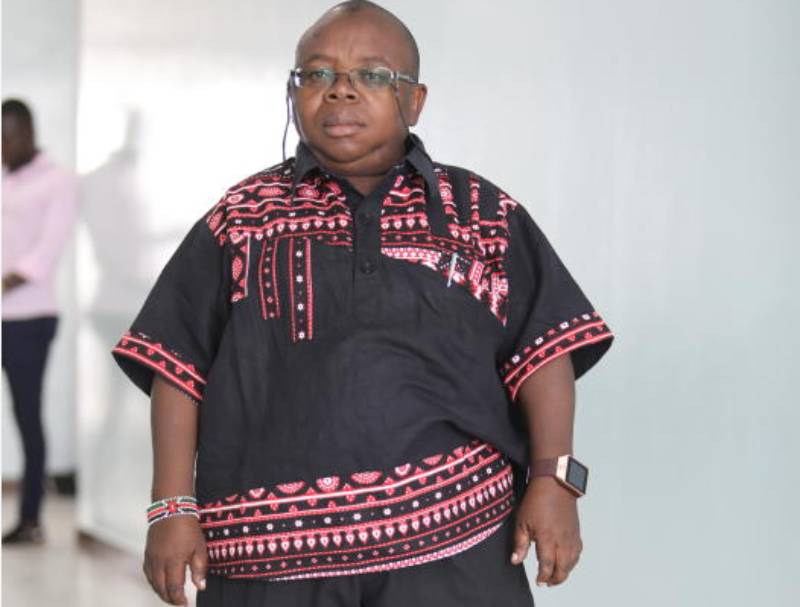 Hussein Kenga (pictured) remembers the days he spent locked in his room, trying to deepen his voice. He was 16-years-old, desperately praying for his boyhood shrill voice to get the crack that his agemates had gotten.
His classmates were going through puberty; the growth spurts, wisps of hair on the chin, and the many hushed talks about the changes that were happening in their private parts indicated the approach of manhood. He had none of it.
"I was still a boy, even though my age was advancing. I hit 20 years old and nothing about my body had changed to show that I was growing. I knew that I was not okay. I was different," he says.
The years after were tumultuous. His friends were starting families, yet he could barely get the desire for women. The pressure inside him was mounting. By the time he was approaching 30 years, his self-esteem had taken a dip.
Derogatory names
"I was tired of people calling me derogatory names. Having short stature means even children will see you and mock you. It is a very bad feeling," he says.
It is after he turned 32 that they discovered what ailed him. He had pituitary dwarfism caused by a deficiency of growth hormone. It cast some hope in the gloomy situation.
"I went through hormonal therapy. I still do not have children, but I started developing into a man," says the 48-year-old.
He embodies the struggles of other Kenyans of short stature that is caused by different medical conditions. Data from the Kenya National Bureau of Statistics indicate that there are more than 3,000 Kenyans with severe dwarfism, with more than 1.2 million children having stunted growth that medics say could lead to dwarfism in adulthood.
Dr CF Otieno, lecturer at the Department of Clinical Medicine and Therapeutics at the University of Nairobi, says there are many cases of dwarfism that could be managed through medical interventions, but most people do not seek help until it is late.
"Parents should be on the keen on their children's development and report when they notice a delayed growth in growth or disproportionate body parts," he says.
Kenga recalls the treatment process he went through during the hormonal therapy and says it was expensive, and only a few doctors could handle his case. He says he knows many other people with dwarfism, especially women who have not had secondary growth, but cannot afford to go for the therapy.
"Most of the treatment requires that you travel to Nairobi. If you are in far-flung counties, this is rarely an option for you," he says.
Dr Angela Migowa, assistant professor and paediatric rheumatologist at Aga Khan University says there are cases of short stature that can be treated if the nurses at public hospitals can be well trained to accurately capture data during early stages of life.
Alter the genes
"Using a graph to plot height at different ages can instantly tell you the child is not developing well. In some cases, early intervention can be used to change the situation," she says.
She also says in cases where dwarfism is caused by a genetic disorder, there are some countries that allow for manoeuvring of the genetics to alter the genes, but there are ethical issues around it.
"Most hospital do not screen for things like thyroid complications, yet the treatment can be so cheap," she says.
She also thinks public awareness can bring a lot of changes and make people start pushing for better health care that will make people with short stature feel more accepted in society.
Irene Muoki who suffers from Diastrophic Dysplasia, a condition caused by a bone disorder says she had to drop out of school when the taunting became too much and bullying she got from her peers was causing her anxiety.
"I remember one day during assembly, the teacher lifted me like a child. I was in Class Seven. The whole school laughed. I was sweating and panicking from the embarrassment. I knew I will never go back to school," she says, explaining how people with dwarfism suffer in an education system that does not support them.
She says even in adulthood, her biggest struggle is getting people to treat her as a grown up. She mentions a recent case where a popular Kenyan comedian went on social media to ridicule a woman of short stature who had gotten pregnant.
"He put up a photo of the pregnant woman laughing and saying that the man who had gotten her pregnant has no shame. It goes to show you that if you have dwarfism, people think you have no emotions. You are nothing to them. It is a shame," she says.
She adds that her worst humiliation came when she met a man who fell in love with her, and when he went to introduce her to his parents, his mother outrightly rejected her.
"She told me on my face that I must have bewitched her son. I knew it was not going to work. He left me soon after. And many more men have left me since then. We are outcasts," she says.
Joakim Mwangi, founder of Short Stature Society of Kenya, a non-governmental organisation that champions for the rights of people with different health conditions that cause short stature says there are many myths surrounding their existence.
Greatest desire
"We champion for education and empowerment because people with short stature go through a lot of social and psychological challenges. We want to have a strong voice," he says.
Kenga says the greatest desire for people living with dwarfism is for people to start paying attention to their needs.
"We are people. We do not appreciate when we are treated with children – as a reason for people to laugh and tease. Not all people with short stature want to do comedy. We are individuals with different personalities," he says.