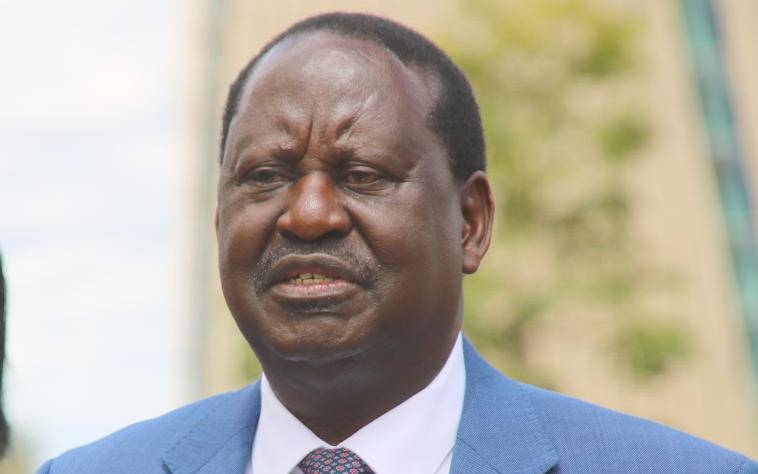 ODM leader Raila Odinga has lauded the State's effort in fighting the coronavirus saying that it has set a crucial example to many countries. Odinga who was addressing the country from his office said in his Madaraka Day speech hailed Kenyan health workers for their roles in responding to the virus. "I Salute our dedicated health workers who have risked their lives to lead the battle against the Covid-19 from the front and made all the difference in regard to saving lives," he said. Odinga
(pictured)
also praised the ministry of health for their efforts in containing coronavirus, by formulating policies, informing the public and enforcing safety measures. Raila lashed at Kenyans who are defying the Covid-19 safety rules set by the State.
SEE ALSO: Hotels embrace digital ordering in 'contactless dining' new normal
"I want to thank our minister for health (Health Cabinet Secretary) Mutahi Kagwe for leading the team in the ministry for such a gallant struggle," he stated. "I wish to urge the few Kenyans who are refusing to listen to the advice by the government by desisting from washing their hands with soaps and hand sanitisers, and going to overcrowded funerals. They are doing a great disservice to this country." He stated: "As a country, we have done well, we have fought a good fight and has shown the world that what other nations can do, Kenya can do better." He thanked President Uhuru Kenyatta for keeping the country abreast with the coronavirus intervention measures. The former premier said the Head of State had done a commendable job in trying to contain the virus and its impacts, with plans for economic stimulus plan taking the centre stage. Odinga lamented Kenya's triple tragedy entailing Covid-19 pandemic, locust invasion and floods which have displaced thousands along the lake regions.
SEE ALSO: 650 test positive as Health Ministry recounts Covid-19 gains
He, however, said that Kenyans being resilient will rise above the troubles owing to the positive gesture shown by the government. Kenya registered 74 more coronavirus cases yesterday bring the total number of registered infections to 1,962.