Coronavirus found me at home, says Bishop Wanjiru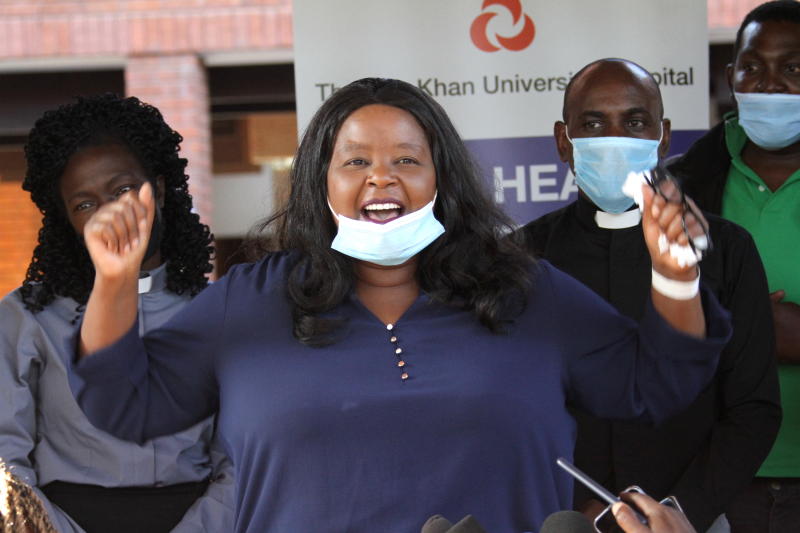 Chanting songs of praise and thanksgiving, an elated Margaret Wanjiru (pictured) yesterday walked out of the wards of the Aga Khan University Hospital in Nairobi, cured more than a week after she was quarantined at the facility.
As the founder of Jesus Is Alive Ministries and former Starehe MP, Bishop Wanjiru told the media upon her discharge yesterday, the Aga Khan Hospital released her after she passed two Covid-19 tests, certifying that she was negative and indeed cured.
"I am over 50 years. I have never been hospitalised, this is my first time. That grace that has kept me has also seen me through the disease," she said.
Interestingly, Wanjiru revealed that prior to her Covid-19 diagnosis, she did not exhibit any symptoms associated with the disease. In fact, Wanjiru said, she visited the hospital after she suspected she had food poisoning.
"My stomach started running on Sunday night. I knew I had eaten bad food. On Monday I went to the hospital because of food poisoning," she told the media.
Wanjiru said she was treated for food poisoning that Monday before returning home. However, when she returned the next day for antibiotics, her doctor advised her to take a Covid-19 test, which turned out positive.
On May 21, rumours of Wanjiru's diagnosis began to circulate, with some claiming she had hosted 18 people for a prayer meeting in her Nairobi home.
However, Wanjiru yesterday dismissed the reports, stating that she did not have any guests or intercessors at her home and that only her family and staff had accessed her home in the days prior to her diagnosis.
She described herself as a homebody, saying that in addition to not receiving visitors, she had not left her home before the diagnosis. She suggested that she might have contraced Covid-19 from one of her staff members: "We take some things for granted when we are at home, because one person can go off duty and come back without us really questioning where they have been and how they handled themselves".
She noted that failure to observe safety measures at home, such as by not wearing masks, could have led to her contracting the disease from one of her staff members.
Out of these family members and staff in her home, Wanjiru disclosed that two of her grandchildren and six of her staff members had also tested positive. While her grandchildren have also been discharged after treatment at the Aga Khan University Hospital and are healed from Covid-19, the six staff members are still in quarantine.
Wanjiru said her treatment began immediately after her admission. They comprised of procedures such as supplemental oxygen, even though she did not experience breathing difficulties.
However, considering that she did not exhibit any symptoms, Wanjiru cautioned Kenyans to be responsible.
"My message is very short; that for those who have not taken it serious, Covid-19 is real and it should be taken seriously. It should be taken seriously not only when you are a work or only when you are in public. It should be taken seriously even when you are at home," she stated.
Upon her discharge, Bisho Wanjiru immediately went for prayers at her church, saying she needed to express gratitude to God, her recovery feeling like a second lease of life.