Court finds governor Ojaamong has a case to answer, fines ex-Kasarani MP Sh1.3 million for graft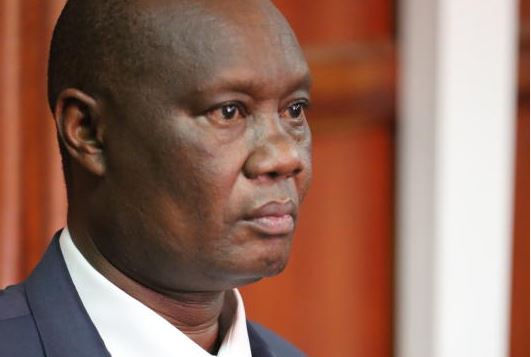 Busia Governor Sospeter Ojaamong (pictured) has a case to answer in a Sh8 million corruption allegation, a Nairobi Court ruled yesterday.
The Anti-Corruption Court found that the State had put up a case against the governor and eight others to warrant their being put to their defence.
Chief Magistrate Douglas Ogot said the State's evidence and witnesses had convinced him the governor, Busia Finance Executive Bernard Yaite, Chief Finance Officer Leonard Obimbira, Head of Treasury Accounting Samuel Ombui, Allan Omachari, Edan Odoo, Renish Omullo, Sebasian Hallensben and Madam R Enterprises (MRE) were in 2018 involved in fraud, and they should give their side of the story to rebut the charge.
The Director of Public Prosecutions Noordin Haji called 20 witnesses and produced 50 documents in the case. The court heard that MRE was registered in Kenya on April 8. It emerged the county paid Sh8 million to a company whose registration indicated its business was to buy shoes and operate hardware.
Ojaamong was accused of conspiracy to defraud the county government of Sh8 million, engaging in projects without proper planning and abuse of office. Haji also okayed the prosecution of the nine for loss of public funds through fraudulent procurement.
"Ojaamong unilaterally signed an MoU with MRE Ltd in a project for a solid waste management system without due regard to procedural framework governing the management of public finances and projects, leading to loss of Sh8 million," the DPP said.
In the first count, the four were accused of conspiring to defraud the Busia County government of Sh8 million by entering into an agreement for a feasibility study on solid waste management with a company that had not been established.
An investigation by the Ethics and Anti-Corruption Commission, which started in September 2015, further found the tender was single-sourced.
Additionally, former Kasarani MP John Njoroge was yesterday fined Sh1.3 million for soliciting a Sh100,000 bribe seven years ago; if he defaults, he risks two years in prison.