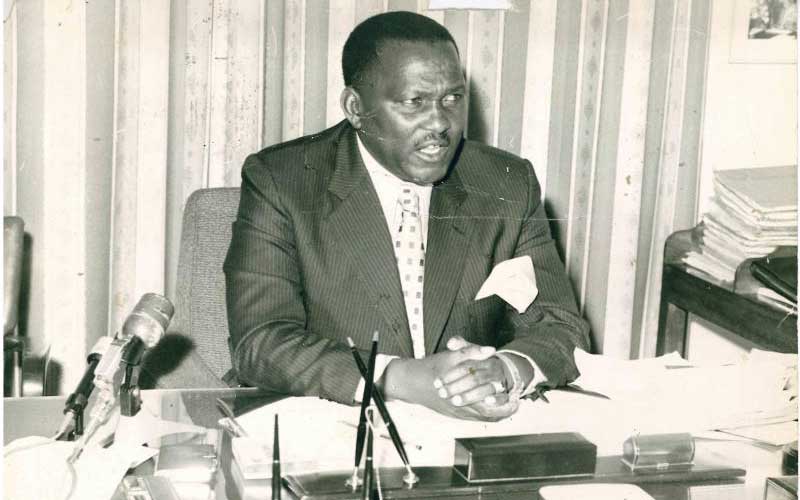 A decision by administrators of the late Cabinet Minister Paul Ngei's estate to include an adopted son as a beneficiary has caused divisions in the family.
Elizabeth Nduku Mwanthi, the veteran politician's daughter, moved to the High Court to block George Kasyoka Ngei aka Nakron's inclusion in sharing the estate.
In the court documents, Ms Mwanthi claimed Nakron's name was not included in the letter from the chief that was filed in court when her brothers sought to be given powers to administer the estate.
The claim was supported by an affidavit filed by her sister Claudine Mwelu, arguing that the issue of Nakron was never deliberated in the family meetings but her brothers appointed as administrators said the issue was taken to court in bad faith.
Read More
Mwanthi wants the court to compel her four brothers to produce a full and accurate inventory showing assets and liabilities of her late father's estate as at October 8, 2015, when the court partially confirmed letters of grant it had issued in 2012.
Mwanthi, who was seeking to have her brothers replaced as administrators of the estate, asked the court in her application filed on April 29, to issue preservation orders stopping them from selling her late father's property, pending hearing and determination of her case.
However, High Court judge Dianah Kimei told her to move to court with a requisite application to address the issue on the adopted son. The applicant is said to have initially consented to inclusion of the adopted son but later changed her mind.
"I note that there is an additional beneficiary included in the list of the beneficiaries to the estate of the deceased in the absence of an application to include him. The applicant has taken issue with the same in her affidavit in support of the application. However, she had consented to the confirmation of grant and is going back on her earlier position, which is indicative of lack of good faith," the judge said in her May 19 ruling.
At the time of his death, Ngei had acquired parcels of land in Machakos and Makueni counties; and bought shares in British American Tobacco and the East Africa Breweries Limited.
Ngei, who had five wives, died on August 15, 2004 and was survived by 11 sons and 10 daughters said to have sold some of the property and even distributed shares of the blue chip companies.
His son Henry Masaku Ngei filed a petition in court in March 2010 and a grant was issued in his name and that of Patrick Mutinda, Victor and Humphrey Mutuku as joint administrators. The grant was partially confirmed in 2015.
The judge said the administrators had not provided a full and accurate account of the assets and liabilities of the estate, income received from the estate, and how they had applied the same.
She gave them 60 days to file a full account of the estate.