Oswago to answer to charges in Sh1.3b poll kits tender case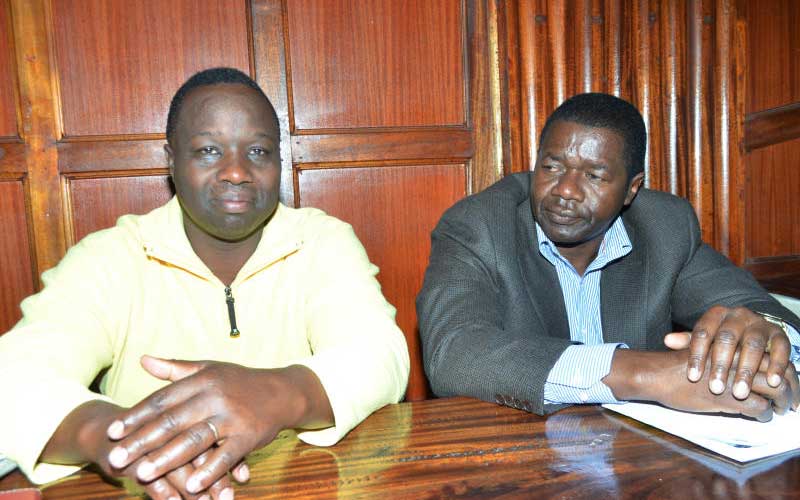 Former Independent Electoral and Boundaries Commission (IEBC) CEO James Oswago has a case to answer in connection to the Sh1.3 billion voter identification devices tender scandal in 2013.
Anti-Corruption Court Magistrate Felix Kombo also ruled that former IEBC Deputy Commission Secretary in charge of Support Services, Wilson Kiprotich, should be put on his defence.
The magistrate found that the Ethics and Anti-Corruption Commission (EACC) had presented believable evidence on procurement malpractice against the two, and which puts them to task to explain and give a rebuttal that will persuade the court of their innocence.
The magistrate, however, acquitted Edward Karisa (Director of Finance and Procurement) and Willy Gachanja Kamanga (Procurement manager) after finding that EACC had not given him compelling evidence against the two.
The Supreme Court in 2013 had ordered investigations into how voter identification kits which were used in the 2013 election stalled and crashed.
During the hearing of the election petition filed by Orange Democratic Movement leader Raila Ondinga, IEBC officials spilled beans in court on what had happened resulting in faulty devices.
The case at the Supreme Court was heard by justices Willy Mutunga (then Chief Justice), Kalpana Rawal (Deputy Chief Justice), Phillip Tunoi, Jackton Ojwang, Mohamed Ibrahim, Njoki Ndung'u and Smokin Wanjala.
Mr Dismus Ong'ondi swore an affidavit on behalf of IEBC. He explained that the failure of the gadgets mainly arose from misunderstandings and squabbles among IEBC members during the procurement process – events that occasioned the failure to assess the integrity of the technologies in a good time.
"It is, indeed, likely that the acquisition process was marked by competing interests involving impropriety, or even criminality and we recommend that this matter be entrusted to the relevant State agency for further investigation and possible prosecution of suspects," the Supreme Court ruled.
Miles away, in London, investigators were digging into how its citizens got the IEBC tender.
From the investigations into the scandal christened Chickengate, a London-based court indicted two senior officials of a British company- Smith and Ouzman Limited.
Christopher John Smith and Nicholas Charles Smith were found guilty of paying kickbacks to IEBC officials in order to clinch the lucrative tender.
A jury of 12 at Southwark Crown Court convicted them after a Serious Fraud Office investigation that found that payments totaling to Sh70.5 million were wired to public officials for contracts in four African states that included Kenya, Somaliland, Ghana and Mauritania.
According to the records contained in the London-based court, the two passed money to top officials of the two commissions in order to win the tender for printing election materials and others for KNEC.
Smith and Ouzman, a printing firm that focuses on security documents such as ballot papers and certificates, was convicted of three counts of corruptly agreeing to make payments, contrary to section 1(1) of the Prevention of Corruption Act 1906.
Meanwhile, another anti-corruption court magistrate, Lawrence Mugambi, yesterday fined a former Kenya Revenue Authority official Sh2 million for receiving a Sh15 million bribe in order to reduce Sh439 tax arrears by a firm.
Mugambi ordered that Robert Maina Ngumi should pay the fine or spend 18 months in jail for corruptly soliciting a benefit.