Four suspected thugs shot dead in Komarock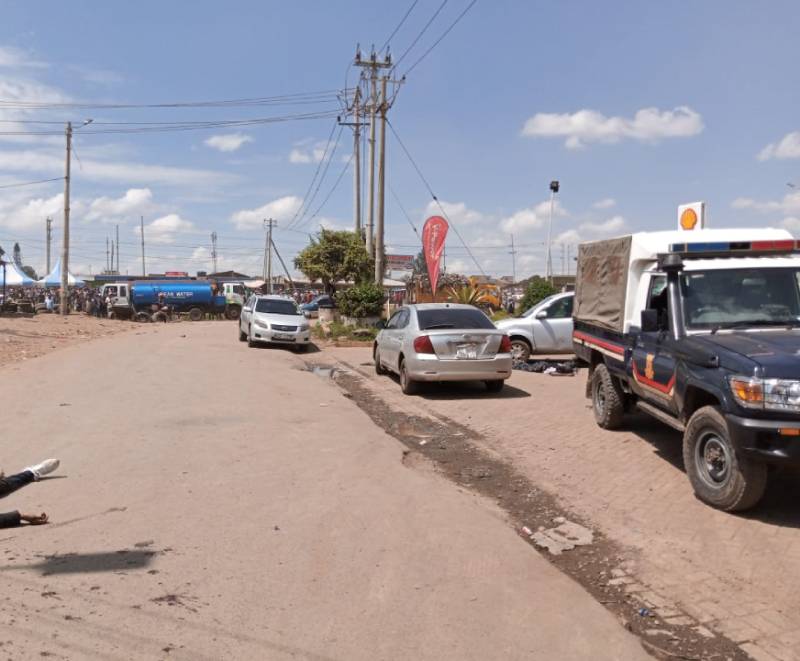 Police have gunned down four suspected thugs along Kangundo road in Komarock, Nairobi.
Buruburu OCPD Adamson Bungei confirmed the incident, saying that they have launched investigations into the matter.
"Our officers pursued the suspects and ordered the assailants to surrender but, instead, they opened fire on police who responded by gunning them down. We have started investigations into the incident" said Bungei, the area police boss.
The occurrence which attracted a crowd, against the social distancing rule, happened at the Shell petrol station after the suspected robbers drove through before opening fire on the police.
The assailants were being pursued by police, through Outering road, driving in a Toyota Cienta.
According to reports, one police officer is in critical condition after suffering gunshot wounds during the exchange. He has, however, been rushed to Mama Lucy hospital for further treatment.
Criminal activities have been on the rise in Komarock area during the coronavirus period, especially at night when the daily 7pm - 5am curfew is in force.
Criminals have been taking advantage of the curfew, and the preoccupation of the police in keeping people inside their houses, to run their operations.
Recently, residents of Langalanga area in Nakuru County, woke up to empty shops, after unknown people broke into their stores at night, leaving them counting losses.
Veronica Wanjiru, who owns Vesh Pub at Kanu Street, lost a television set and wine valued at more than Sh83, 000.
Ms Wanjiru said it was strange that her pub was broken into during curfew hours when the police are patrolling and keeping watch.
"The curfew affects everyone and the Government, through the police, is supposed to ensure even criminals don't go out. We are left wondering if the police are enforcing the curfew as required," she said.
Loice Wanja's storage vehicle was also broken into and over 70 trays of eggs worth Sh22, 400 stolen at their home in Lake View Estate.
Residents in the area have been reporting cases where their shops had been broken into at night. This situation has raised eyebrows as to whether the police could also have had a hand in the incidents.
In a recent report by the National Council of the Administrative Justice (NCAJ), apart from burglaries and robberies, rape cases, have been on the rise accounting for over 35 per cent of the total reported cases.
According to the police statistics, generally, rape and defilement cases make up between two to five per cent of crimes reported in the country annually. However, the cases have now jumped seven times higher.
Grieving mum admits son was a thief
Susan Wangui, the mother of Derrick Ndung'u - who was killed by a mob, has admitted that her son was a thief and she had warned him against the vice many times