Survival: Matatu operators devise ways to stay on road, remain afloat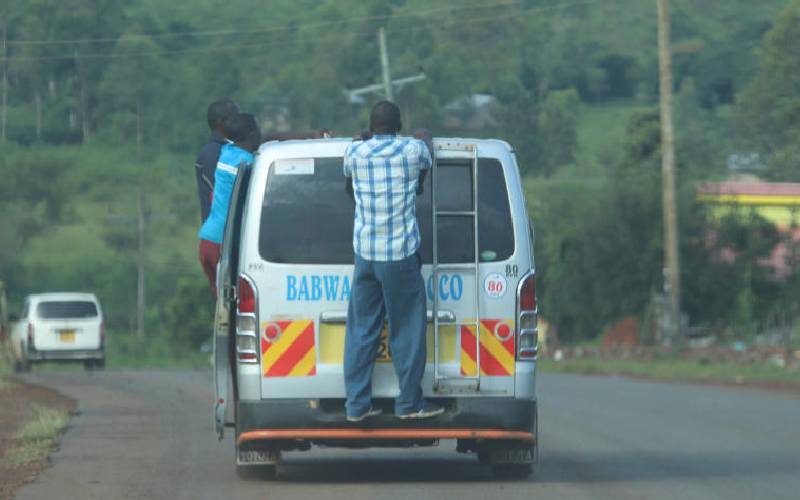 Covid-19 has had a huge economic impact, with the transport sector one of the most hit.
First, there was a government directive for all matatus to reduce number of passengers to ensure social distancing.
Then came restriction of movement into and out of Nairobi, which effectively grounded all public service vehicles that ferried clients into and out of the city.
But the matatu owners have decided they will not sit back and watch this pandemic ruin their business, and have devised ways to help them remain afloat.
According to Mwaniki Gichere, Chairman for Laikipia Matatu Owners Association, saccos have set aside some vehicles to ferry cargo to various destinations.
"Our customers sourcing for business items from Nairobi were hit by restriction of movements and they now depend on us to ferry their stuff. Some matatus in Laikipia that used to carry passengers now ferry luggage," said Gichere. Sending parcels cost between Sh200 and Sh500.
Of the 300 vehicles belonging to Nanyuki Cabs Sacco plying Nairobi route three were set aside to ferry cargo to and from Nairobi.
Gichere said most cargo are supplies of farm produce, with people in the villages sending food items to their relatives stuck in Nairobi.
In Nyeri, some members of the 2NK Sacco withdrew vehicles temporarily to ferry parcels.
"The owners are now transporting cabbages, onions, potatoes and rice to Thika and Nairobi," said Nderitu Wachira, sacco chairman.
Those operating hardware shops are using the matatus to ferry construction materials from Nairobi to Nyeri.
Wachira said the investors removed passenger seats to create space for the cargo.
However, the alternative venture comes with extra costs, including commercial insurance to convert the vehicle for other purposes.
"The vehicles have to be rebranded by removing the yellow line and changing insurance purpose from Pubic Service to private. They also need letters from the government to recognise them as food suppliers," said Wachira.
In Nakuru a fleet of Mololine Shuttles remain parked at Milimani parking lot.
Sacco Chairman Njoroge Bumasu said at least 98 per cent of the vehicles are grounded.
"Transport business has been rendered unproductive, I cannot ascertain if people fear travelling, or we are law abiding Kenyans," said Bumasu.
Mololine services has a total of 400 passenger matatus, with the main route being Nakuru-Nairobi.
Other routes include Kisumu, Kericho and Eldoret, including short distances, whose operation is always minimal.
To cope with the loss in business and stay afloat, some matatus have turned to doing other businesses.
The vehicles now transport produce, including potatoes, carrots and vegetables from farms in Subukia, Eldama Ravine, Molo, Njoro and Mau Narok.
"We are only offering parcel services, mostly food items to people in Nairobi," said the Bumasu.
"To drive to Nairobi, we are cleared by the government as we adhere to curfew time and public health guidelines in the fight against Covid-19."
The sacco had employed at least 700 people, some of them indirectly, individuals who have since lost their jobs.
Prestige Shuttle has also sent home almost all its employees.
Its owner, Steve Muli, said four of their seven offices have been closed, with the remaining ones only handling parcel services.
Repay loans
The shuttle with its main offices in Nakuru had other offices in Kisumu, Nairibi, Eldoret, Kitale and Bungoma.
The Nairobi office had 19 staff but now it is only operating with two. Nakuru had 21, but has only been left with three who are booking, loading and offloading luggage and parcels.
The sacco has 156 vehicles, including 11 passenger buses.
"Our buses used to ply Nairobi-Kisumu, Nairobi-Mombasa and Nairobi- Busia, operation that was paralysed following restricted movement to and from Nairobi," said Muli.
Previously, eight vehicles would ply Nakuru-Kisumu route, but now only one or two are recorded in a day.
"At least 98 per cent of our vehicles have been grounded, yet we have to repay loans and office rent," said Muli.
Now the number of travellers has drastically reduced, with a 10-seater matatu taking approximately three hours to fill up.
On normal days, at least 700 to 800 passengers would seek transport services with the shuttle. The number would increase over the weekends to between 1,200 and 1,500.
"At times we would be overwhelmed by number of people seeking transport, but now our operating centre is a shell," Muli said.
John Kamau of 2NK Sacco in Nakuru said their booking offices in Nairobi and Thika have been closed, but they now provide parcel services.
In Eldoret, several Nairobi bus stages have remained deserted since April 6 when President Uhuru Kenyatta ordered cessation of movement into and out of Nairobi metropolitan area.
With transportation of passengers to Nairobi banned, PSV operators were left with no option but to ground more than 500 14-seater matatus and several buses.
Great Rift Shuttle has grounded 200 matatus, rendering a similar number of drivers jobless for a month now.
The stage has been taken over by boda boda operators, as the sacco offices remain closed.
North Rift Shuttle, Eldoret Shuttle and Cross Roads matatu services, all plying the Eldoret-Nairobi are bearing the heaviest brunt of the restrictions aimed at taming the spread of Covid-19.
An official at the North Rift Shuttle Services, John Karuga, said their drivers are now jobless and desperate.
"Our drivers have been busy people and are now frustrated because of loss of jobs. We have seen some of them loitering in town because they can't get jobs during this pandemic," said Mr Karuga.
He said their matatus will remain parked until the restriction of movement is lifted.
"The state recently announced the reopening of hotels and restaurants. We are asking that movements into and out of Nairobi be allowed too. We will adhere to regulations to prevent spread of the disease. Our workers can't afford to pay rent and provide for their families," he said.
A driver attached to the transport company, Joseph Maina, said it became difficult to secure a job with another matatu sacco after the transport restrictions.
Menial jobs
"I have a family and I can't feed them. Life has been so difficult. I often come to the bus stage hoping too secure a driving job but there has been none," he said.
Cross Roads matatu services manager Alfred Sambu said 150 vehicles under the sacco are grounded and 200 drivers have resorted to menial jobs in their villages.
Sambu said a majority of their drivers come from the North Rift region and decided to go into farming to eke out a living.
"This is a global pandemic and we can't blame anyone. Our drivers were released without pay because we can't pay them when we are not in operation," he said.
His Great Rift Shuttle services counterpart Simon Ndung'u said 200 of its PSVs are now gathering dust.
In Western, there are reports that travellers have managed to sneak past police roadblocks using private cars and disguising themselves as essential service providers whereas others use porous routes.
Some have gone to the extent of falsifying medical reports to access the capital city.
A spot check by the The Standard in Kakamega town has established that a majority of the people travelling to Nairobi from the region are businessmen, students and those seeking treatment.
"From Kakamega to Nairobi we are charging Sh2,000 per person. The money enables us to bribe the police to allow us to pass the roadblocks. We normally travel at night," a driver operating a seven-seater matatu, claimed.
He said if it dawns before they pass the mapped areas, they are forced to use undesignated routes upon reaching Limuru, then access the city through Kikuyu.
However, shuttles that normally operate between Kakamega and Nairobi are still in business, but all the passengers alight in Naivasha town then use their own means to access the city.
"It's only a total lockdown that can prevent Kenyans from going to and from Nairobi. Sometimes, we convert these 14-seater matatus and pretend we are providing courier services but upon reaching Nairobi, we carry passengers to capacity and leave at night via the porous borders," said a driver who only identified himself as Korir.
When asked why they are engaging in such a risky business, Korir said if he stays at home, the government will not feed his family.
Leave the city
Korir said those from Bungoma and Busia must go to Kakamega to catch a vehicle to Nairobi.
Moses Otieno, who works in a telecommunication's firm, says he managed to leave the city three times last month.
In the first incident, he said his sister was getting married and according to Luhya traditions, as an elder brother he had to be at the negotiating table.
"We have agents at Afya Centre who are in constant communication with shuttle drivers. We left the city before curfew hours via Kikuyu and using undesignated routes, I found myself in Naivasha. We were 10 of us who had booked the shuttle and we paid Sh2,000 each," said otieno.
Meanwhile, matatu operators as well as taxi drivers in Kakamega town are counting losses.
"All our customers work at night, especially businessmen, hotel and bar attendants and we usually take them home at around 11pm after work. With the curfew in place now and people preferring to stay indoors, we are not making any money," said Patrick Nasio, a taxi operator.
Mr Nasio said he took a bank loan to buy his car, which he is still servicing. He said this week, he defaulted in repaying the agreed amount, which will see him slapped with penalties for late repayment.
"We used to make good money on Sundays by carrying people to different churches. We are now left grappling between fending for the family, looking for school fees as well as servicing loans," he said.
Ken Mule, a matatu operator, said all his five matatus have been grounded. He said there are no passengers since markets and schools have been shut.
"Our main customers were traders and teachers going to school every day," said Mule.
He said the reduction in number of passengers per trip has also hit them hard.