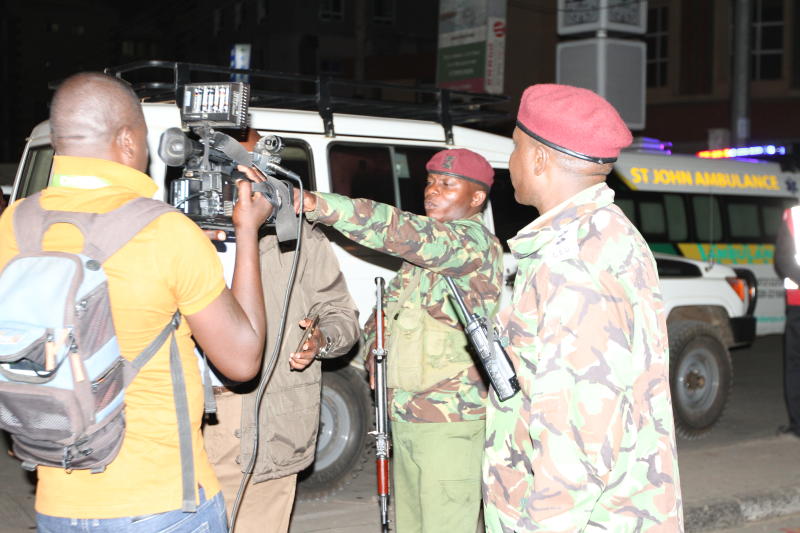 Today is World Press Freedom Day, and this year's focus is on 'Journalism without fear or favour'. It is an important day for media professionals and citizens who believe in a free press.
Reporters without Borders (RSF) this week unveiled the 2020 World Press Freedom Index that has been published every year since 2002 and is compiled to evaluate the state of journalism in 180 countries and territories.
This year's index shows that the future of African journalism in 21 countries is under threat, with those who produce news and information working in difficult conditions. The index looks at pluralism levels, media independence, the environment and self-censorship, legal frameworks, transparency and the quality of the infrastructure that supports news production.
Each nation is assigned a score calculated from data on abuses and violence against journalists during the period being evaluated, and from questionnaire answers completed by journalists, media lawyers, researchers and media specialists. The categories range from good (white) to fairly good (yellow), problematic (orange), bad (red) and very bad (black).
Norway tops as the country with freest press, while North Korea is ranked last. Namibia has retained its top position in Africa for the second year in a row.
Read More
The Middle East and North Africa continue to be the world's most dangerous regions for journalists. Press freedom remains highly fragile in sub-Saharan Africa, despite the fall of dictators and authoritarian governments in recent years in countries like Angola, Gambia, Sudan and DRC loosening the noose on journalists in these countries.
East Africa has consistently ranked poorly in the index. This year, Kenya is at position 103 out of 180 countries; Tanzania is at 124, Uganda 125, South Sudan 138, Rwanda 155 and Burundi 160.
Kenya
The country dropped three positions from 100 in 2019, but despite it experiencing a steady decline in media freedoms, Kenya, which is classified 'orange', has long been viewed the region's best country to practice journalism.
However, Kennedy Wandera, an international correspondent working for VOA News in Nairobi, notes that Kenya has a "slightly improved working environment for journalists but it is also worse compared to the rest of the EAC states".
According to RSF: "Kenya has seen a slow erosion of media freedom in recent years. The political situation and security concerns have been used since 2016 as grounds for restricting the freedom to inform. During election campaigns, the media are routinely subjected to physical attacks by the security forces and the public, as well as to threats and intimidation by politicians, confiscation of equipment, and censorship of journalistic content."
But according to Kenya Union of Journalists Secretary General Eric Oduor, Kenya enjoys a fair press media compared to other countries in the region: "Factors threatening press freedom at the moment are largely economic factors that make the working environment difficult for journalists," he said.
"The immediate challenge that needs attention is media sustainability. Without a proper business model to confront and improve revenue streams, media houses and journalists become vulnerable."
Tanzania
The situation in Tanzania continues to worsen as the nation drops six positions. RSF's Arnaud Froger noted that no other nation in the world has experienced such a drastic decline in press freedom in the past four years.
Committee to Protect Journalists' (CPJ) sub-Saharan Africa representative Muthoki Mumo said Tanzania has been a country of grave concern for CPJ over the last few years. CPJ has documented the use of media shutdowns, arrests, intimidation, judicial harassment and restrictive regulations to muzzle the free press.
Mwananchi, Star Media, MultiChoice Tanzania and Azam Digital have been on the receiving end of the State's big stick. The latter three outlets were fined 2,000 euros (Sh238,000) by the Tanzania Communication Regulatory Authority and forced to issue a public apology over seven days for carrying a report by Kenya's Citizen TV that described President John Magufuli as stubborn.
The latest blow to press freedom was the arbitrary arrest and detention for seven months of journalist Erick Kabendera. Mr Froger said the charges brought against Mr Kabendera changed three times in the first weeks of prosecution.
Aurelia Gabriel works for Radio Kwizera that broadcasts from Ngara in northwestern Tanzania. She said apart from media violations, the government has declined to offer information regarding Covid-19, and halted daily updates. According to Ms Gabriel, media outlets are also limiting their employees on what they report.
"There is in-house interference and censorship. Many media owners are government officials, others are interested parties. Journalists cannot report freely. In school, I was told a journalist is supposed to question in a hard manner and analyse information. I will analyse the environment I am working in. If it allows me to do so, then so be it. If it limits me, well and good, we live to fight another day," she said.
Uganda
The nation has maintained the same position since 2019. Acts of intimidation and violence against journalists are an almost daily occurrence. Security services are the leading press freedom predators. Reporters are facing an increasing number of challenges covering coronavirus, with rights groups warning the pandemic could kill the truth.
African Centre for Media Excellence Executive Director Peter Mwesige says journalists "have been reduced to praise singers, tweeting all manner of hallelujahs about Uganda's exceptionalism, and very few are asking hard-hitting questions."
The RSF Africa desk has documented assaults against journalists for allegedly not respecting a Covid-19 lockdown. Uganda leads the RSF's press freedom violations barometer in relation to the pandemic in sub-Saharan Africa.
Last year, security forces raided three commercial radio stations to stop interviews that were ongoing with opposition leaders. The regulator also ordered media outlets to suspend 39 reporters and producers for covering a protest held by opposition figure Bobi Wine.
"With the 2021 general elections nearing, the tougher the regime will be against the free press," warns Froger.
South Sudan
In a notable improvement for South Sudan, no journalist was killed last year for the second year in a row, but the press environment remains hostile. According to RSF, close surveillance and intimidation are part of the regime's predatory methods. Security forces often go directly to printing presses to censor content.
Foreign journalists have also been subjected to the regime's harassment. Last year, two journalists, one working for AP and the other for France 24, were expelled. The United Nations and peace monitors have been asking the South Sudanese government to respect press freedoms and free speech.
Rwanda
The situation remains unchanged as the nation stagnates on press freedom. Journalists know the red lines they are not allowed to cross as far as reporting is concerned.
Four bloggers were arrested in early April for violating a government directive as they tried to cover coronavirus lockdown measures, according to Human Rights Watch.
But Oswalidi Niyonzima, a journalist working with a community radio, says compared to previous years, the situation has improved.
"Questioning the government no longer puts a journalist in danger or fear as long as they have their facts."
Media High Council Executive Secretary Peacemaker Mbungiramigo dismissed RSF's findings as "not scientific but politically oriented". He notes that media freedom and freedom of expression and independence "have deepened and the profession is now fully liberalised".
Burundi
The situation has been precarious for journalists since a May 2015 coup attempt, with most independent radio stations off air. VOA and BBC have been banned indefinitely. Journalists have paid dearly for trying to cover subjects that the government would prefer ignored, so independent information is very often produced clandestinely.
The RSF has documented dozens of violations by security forces and pro-government militias encouraged by an official discourse that associates non-aligned media with enemies of the state.
The RSF says four reporters working with Iwacu Media Group are kept arbitrarily behind bars, and that President Pierre Nkurunziza previously organised "moralisation sessions" in which journalists were taught how to "behave and report".
"Burundi used to have independent media houses but the 2015 political crisis changed everything. Knowing a story might cost you dearly, you have to analyse the risks involved before doing it," said a journalist who requested anonymity.
The few remaining independent media houses have been financially crippled through withdrawal of ads, leading to self-censorship and biased reporting.