Uhuru dismisses report that Covid-19 misappropriated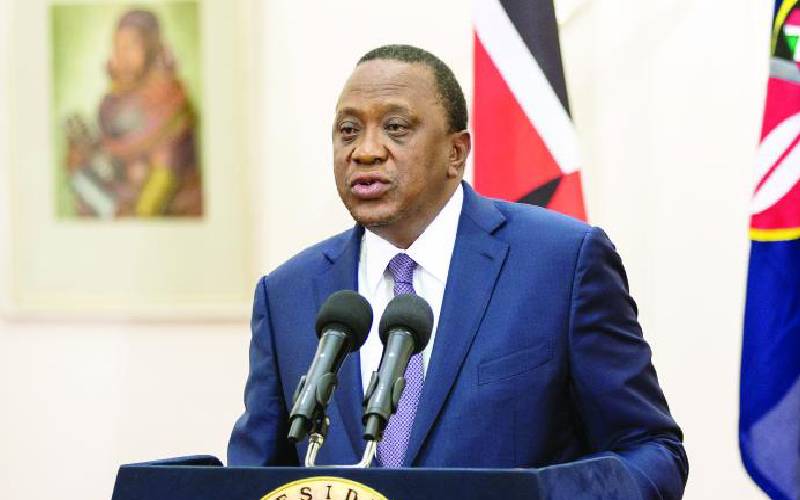 President Uhuru Kenyatta (pictured) today led the country in marking Labour Day celebrations dismissing talk and media reports that Covid-19 emergency funds had been misappropriated.
He cautioned Kenyans against undue politicisation of the effort adding that the C-19 funds would be audited "to the last cent".
President Uhuru said moving forward, the government will do what it takes to contain job losses post corona.
Unlike previous years where the event is largely marked at Nyayo Stadium with pomp, this year's Labour Day was celebrated by a few dignitaries at State House, Nairobi.
The President admitted that due to the coronavirus pandemic, it will not be business as usual.
On Thursday we reported that, among other things, the Health Ministry has spent Sh42 million to lease 15 ambulances at Sh2.8 million each and that at least Sh10.1 million had been earmarked for tea and snacks for various teams involved in combating the pandemic, with Sh4 million already spent.
He honoured and celebrated hardworking Kenyans who have worked to boost the economy.
Kenya is among top six diversified economies on the continent.
Uhuru further praised health workers at the frontline in fighting coronavirus.
He congratulated the police and other rescue workers in areas affected by floods.
Heavy rains have continued to pound the country, with 29 people reported dead in Elgeyo Marakwet and West Pokot county mudslides alone.
One police officer died and seven others injured in Baringo county in flash floods.
The coronavirus pandemic has hurt businesses across the country and the world, with many workers at home as businesses have closed.
Opportunities have been lost as many employees take pay cuts across the sectors. Among those majorly hit are media houses, the transport industry and hotels.
Also hard hit are workers in the informal sector, self-employed and casual labourers. The majority are young labourers who may not have savings to cushion them against the effects of coronavirus.
Policy measures have been set in place to improve the situation. They include the accelerated disbursement to the elderly and vulnerable, coming from the Social Safety Net Fund.
There will also be a direct weekly cash stipend to thousands of vulnerable households in slums and rural areas.
Kazi Mitaani is also among Uhuru's initiatives to help the youth earn a daily wage.
As Kenyans work to flatten the corona curve, the president called for concerted effort to flatten the joblessness curve.
In the coming weeks, the national government will offer post-Covid-19 pandemic social-economic recovery strategies.
"I want to assure the workers, that we've got their back, and we'll do everything to protect them," Uhuru said.
He further called on Kenyans to be part of rebuilding the economy once the corona pandemic is over.
Buy Kenya to build Kenya, the president said.
He criticised employers who insist on having employees wear formal attire.
African print, cotton and local textile industries will prosper only if the citizens support them, Uhuru added.
"To survive this pandemic we must think of our country."
Uhuru will soon invite stakeholders representing employers, employees, businesses and labourers to chart a way forward to rebuild the economy hurt by the pandemic.