CJ Maraga warns against plans to derail online hearing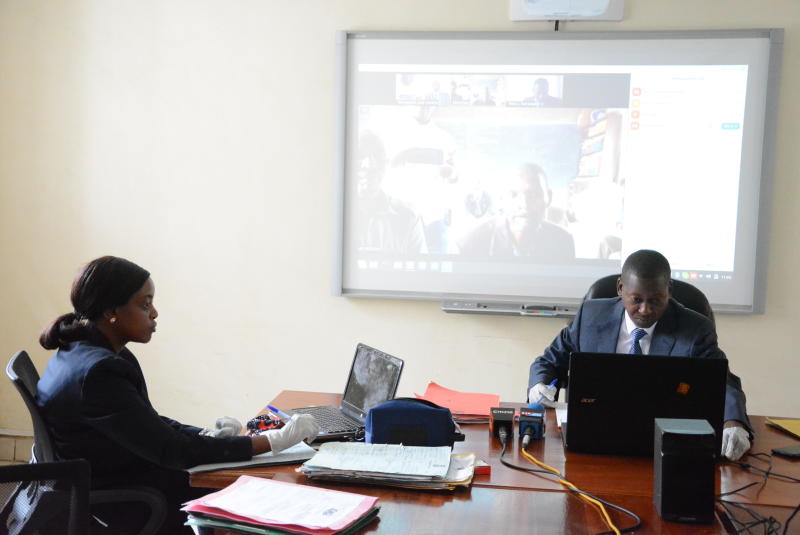 Chief Justice David Maraga has warned some judges and magistrates against sabotaging efforts to have online hearings as part of measures to prevent spread of Covid-19.
Justice Maraga said some judicial officers had been asserting that they will be hearing cases on Thursdays only.
"It has come to my notice that a few of us are frustrating, nay sabotaging our efforts to conduct proceedings remotely and as a result, we are being barraged with all manner of complaints and insults," he said, adding that courts are in session.
In a memo dated April 23, Maraga ordered the judicial officers to clear all judgements and rulings within a month and send him their monthly returns.
The CJ asked those who have no internet at home to work from their chambers or seek assistance from the Chief Registrar of the Judiciary (CRJ) Anne Amadi.
"Colleagues, let it be quite clear that we are all on duty. I will not allow anyone of us to cause problems for the entire institution. If you have any challenges with technology, please seek assistance from the ICT team. We have a lot of time to clear our pending judgements. In this regard, all pending rulings and judgements must be delivered by May 30," he directed.
The dress-down comes as divisions grow within the National Council of Administration of Justice (NCAJ) on whether courts should be re-opened.
But judicial officials who spoke to Saturday Standard on condition of anonymity say lawyers are partly to blame for the slow online courts.
"Honestly, we cannot force a lawyer to receive a judgement on email. The delivery is slow as some lawyers want us to read judgements to them in courtrooms. Ask Law Society of Kenya president whose interest will we be serving if his colleagues demand we must have court sessions instead of the electronic transmissions," one judge said.
A day after Amadi appeared before Senate to explain measures taken by the council to scale up hearings, LSK President Nelson Havi joined the meeting, claiming there are attempts to undercut him.
"Senate summoned NCAJ to explain progress in the resumption of court business. CRJ attended without notifying me. I got to know and I appeared as I am entitled under section 34 (g) of the Judicial Service Act. These attempts to undermine leaders of LSK will be fought ferociously," said Havi on his Twitter handle.
Judiciary immediately shot back saying the invitation by Senate had been copied to LSK Chief Executive Officer Mercy Wambua.
"The NCAJ was not the convener of the meeting, it was invited by the Senate. The invitation letter was copied to the LSK CEO. It was not for the NCAJ secretary to invite LSK. Additionally, the NCAJ is not just Judiciary and the LSK, it has many other State and non-State actors," it replied.
The now sour relationship between Maraga and Havi was sparked by a decision to sustain online court sessions instead of the traditional court sessions.
Disowned the directive
NCAJ had initially agreed to re-open courthouses to litigants, but the idea was dropped in a conference held on Tuesday.
Maraga said the decision to suspend the re-opening date was out of concerns raised by lawyers and judges. He said courthouses risk being contamination sites as police officers, accused persons some who end up in prisons, other litigants who sue and are sued in a private capacity, lawyers and court officials converge at the same point to spin the wheels of justice.
However, Havi disowned the directive saying it was out of 'a litany of excuses.'
"We have concluded a meeting of NCAJ and Kenya Judiciary which had a litany of excuses against re-opening courts. LSK will not be a party to court closure," he said.
Senior lawyers and judicial officers had raised their objection against open court sessions.