Activist Okiya Omtatah has lost his daughter to acute malaria.

The man who has been perceived as the voice of the people posted on twitter mourning the painful loss of his daughter Maryanne Marisyanna Omtatah.

In his post, Omtatah expresses his pain by saying "words cannot explain the pain and sorrow of losing my daughter earlier today. May her soul rest in peace."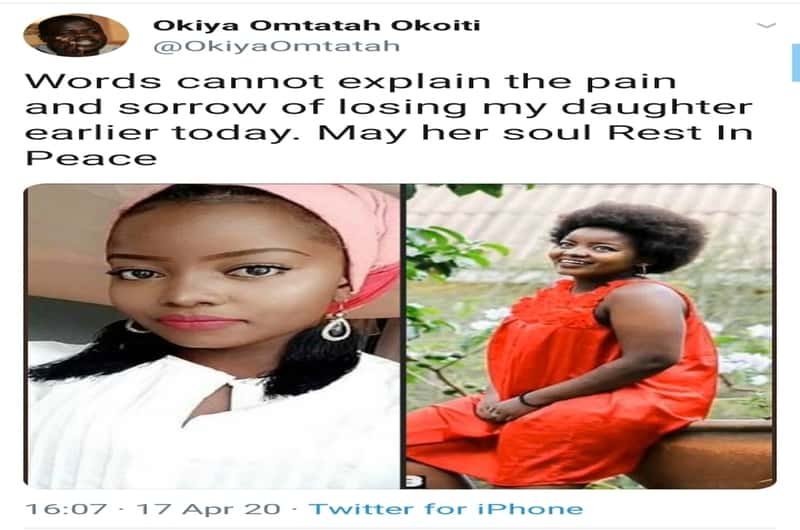 21-year-old Maryanne was a third year university student at Riara University pursuing a degree in international relations and diplomacy. The third-born of four siblings was in a comma since last week before succumbing to the disease today.
Read More

Omatatah has made headlines with his bold move to challenge the government and its apparatus in court. Recently, the challenged the image of the statue of former president Mzee Jommo Kenyatta on the new Kenya shilling notes and also the move to seek orders blocking the transfer of functions of the Nairobi County Government to the National Government.

It is through Omtatah's efforts that Kenyans were able to avoid paying 16 per cent fuel tax which the government was forced to reduce to eight per cent.

The activist has also rubbed shoulders with the head of state who once called him out for continuously moving to courts to stop projects.

He has been the bold unshaken voice of the people and his loss has been the loss of many. Thousands have joined him online in mourning his daughter.

Former Prime minister Raila odinga sent his condolences on twitter calling Omtatah a friend. "I know the pain of losing a child, let it strengthen you to push harder for policies that improve live for our people. God grant you strength to cope with the loss. You're in our thoughts and prayer," read the tweet by Raila.