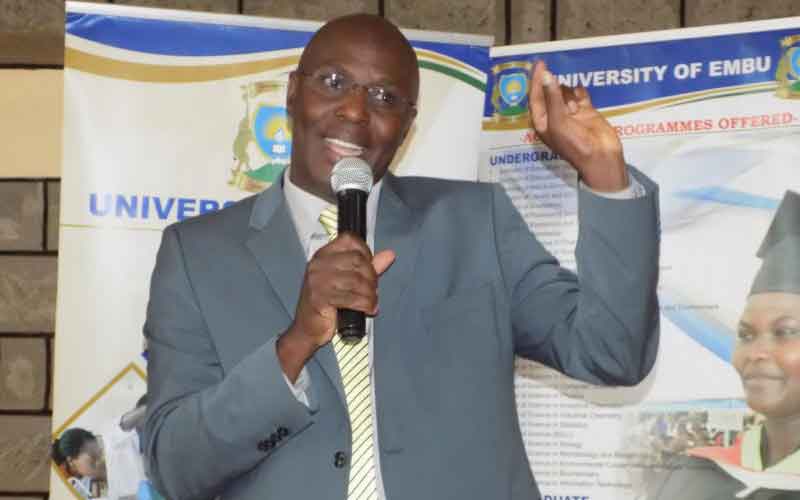 When word went round that Professor Ken Walibora (pictured) was unreachable, the Kiswahili fraternity feverishly started reaching out through friends and social media. I called him several times and wrote an email seeking to know if he was fine. We had talked a week before Easter about the need to stay safe and alive during the physical distancing phase, on account of Covid-19 in Kenya.
Then information came through that the Kiswahili novelist, playwright, essayist, poet, journalist and lecturer was no more. He had been hit by a matatu on Landhies Road, we were told. How could his life be taken so suddenly during the season of rebirth? How could the matatu take away our 'good day'?
The Kiswahili literary scene and media fraternity have lost a prolific writer and journalist of international repute. At a personal level, he was a dear friend and intellectual colleague with whom I worked closely over the last two decades for the advancement of Kiswahili literature and language, nationally and ­­globally. We both served at the African Union's African Academy of Languages (ACALAN), where he was a media resource person and worked together with others to build the framework for Kiswahili as a pan-African language. He also supported the East African Community Kiswahili Commission with research, translation and strategic thinking.
At the time of his death, Ken was a senior lecturer at the School of International Relations and Diplomacy at Riara University, Nairobi. He founded and co-ordinated the Global and Language Studies Centre. Previously, Ken had worked as Nation Media Group Quality Manager overseeing the quality of spoken and written Kiswahili language on radio, TV, online, and print media platforms. He also worked as assistant professor at the University of Wisconsin, Madison, where he taught African literature to undergraduate and graduate students.
Born on January 6, 1965, Kennedy Waliaula went to school at St Joseph's Primary School in Kitale, Olkejuado Secondary School, and Koelel High School in Gilgil. In those earlier days, he taught at Sitatunga Secondary School before training as a probation officer at the Kenya Institute of Administration. Later, he was to study literature at the University of Nairobi and Ohio State University where he wrote a PhD dissertation on prison literature in Kenya.
He was also a translator and his skills are quite evident in the English version of Sauti ya Dhiki (Voice of Agony) by the foremost contemporary Kiswahili poet Abdilatif Abdalla. The collection of poetry written in prison is a strong critique of Kenya's political and economic direction, written by one of the earliest political prisoners of independent Kenya. Ken's translation opens the way for a deeper appreciation of Kiswahili poetry.
But his highly productive life will be remembered principally due to contribution to media and creative writings. To anchor his writing career, he changed the name 'Waliaula' to 'Walibora'. The Kiswahili term 'aula' is synonymous with 'bora' (better). Ken aspired to be better at all times and to take part in the creation of a more accommodating world.
His first novel, Siku Njema (Longhorn Publishers, 1996), was read as a national set book for many years. Students of the time will recall the life of Kongowea Mswahili who struggles for legitimacy in a hostile environment that refuses to recognise the rights of children born out of wedlock.
Most recently, Walibora has written the novel Kufa Kuzikana (Longhorn, 2003) on relationships; the play Mbaya Wetu, on corruption and ethnic solidarity; and Kisasi Hapana (Oxford University Press, 2008) on revenge. Kisasi Hapana went on to win the 2009 Jomo Kenyatta Prize for Literature.
His body of creative works includes a collection of short stories in Damu Nyeusi (Macmillan, 2007) and Maskini Milionea na Hadithi Nyingine (Oxford University Press, 2012)). His other works include Ndoto ya Almasi (Macmillan, 2006) and Ndoto ya Amerika (Sasa Sema, 2001) which were received well by youthful readers, with whom he interacted easily not only as a journalist but also as a writer and teacher.
Favourite of the young
His demeanour, broadcaster's voice and sharp personality endeared him to many younger readers. Among the elders, he was more reserved, calculated and attentive. It was always as if he needed time to continue learning.
Walibora was a powerful storyteller who published with a wide range of publishing firms, writing across genres and thematic interests. He exercised is artistic freedom and gave his readers works that entertained and educated at the same time. His mastery of Kiswahili and familiarity with the everyday life of ordinary people in East Africa allowed him to draw on the richness of metaphor, imagery and symbolism in the region. Without doubt, he had listened closely to stories told to him by his mother Ruth Makali and grandmother Sarah Mrefu.
When I interviewed him on January 8, 1998 about Siku Njema, he told me he had also been inspired by Shaaban Robert, Said Ahmed Mohamed, Mohamed Said Abdulla and Mohamed Suleiman Mohamed. It is no wonder that later in his life he collaborated with Said Ahmed Mohamed in editing a series of short stories including Kiti cha Moyoni na Hadithi Nyingine (Oxford University Press, 2007) and Tumbo Lisiloshiba na Hadithi Nyingine (Longhorn Publishers, 2018).
People come into this world and make choices on what to do with the opportunity it offers. They make choices about how they want to spend their energies. Walibora chose to learn Kiswahili well and use it in his creative writing and media engagements. He mentored and gave his knowledge to others, selflessly.
Prof Kimani Njogu is a literary and cultural scholar based at Twaweza Communications, Nairobi