Kagwe warns of Sh20,000 fines, jail for not wearing masks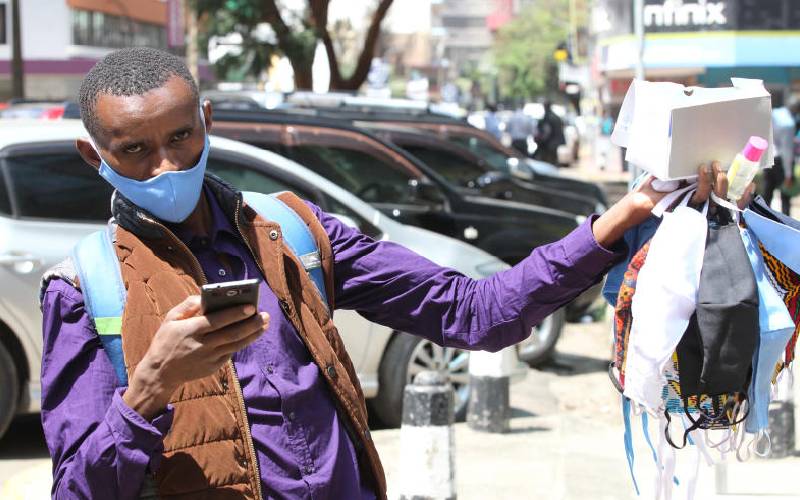 The government has gazetted hefty penalties for Kenyans, including a fine of Sh20,000 or a six months' imprisonment or both if found breaking directives issued in line with the Public Health Act.
A Kenya Gazette Supplement No. 41 signed by Health Cabinet Secretary Mutahi Kagwe indicated that failure to wear a mask while using public or private transport and failure to maintain social distance are among the offences that will attract the penalties.
"Users of public or private transport and public transport operators shall wear a proper mask that must cover the person's mouth and nose and also maintain a physical distance of not less than one metre."
According to the new rules, organisations, business entities, traders whether in a market or enclosed premises are required to provide at their business location or entrance to their premises, a handwashing station with soap and water or an alcohol-based sanitiser which is approved for use by the Kenya Bureau of Standards.
They are also required to put in place measures to ensure that one-metre distance is maintained between persons accessing or within their premises or business location and regularly sanitise their premises or business location.
The order further clarifies the meaning of a gathering to be any grouping, assembly, crowd, or procession in or on any public road or space, any building, place or premises, including wholly or partly in the open air, and including any premises or place used for any barbershop, massage parlour and beauty salon activities, gymnasium, spa, sporting, religious, cultural, political, academic, and fundraising.
Burials or cremations of loved ones who succumb to the virus will be carried out within 48 hours from the time of death.
The rules further abolish the formation of congregations or night vigils to be held as part of the funeral rites.
The directive further stipulates areas which fall under Nairobi Metropolitan Area for the restriction of entry and exit of persons for 21 days that began on April 6, 2020, and will end on April 27 2020.
As for Mombasa, Kwale and Kilifi, restriction of movement began on April 8, 2020, and will end on Wednesday 29 April 2020.