Mutyambai recalls police officers on leave over coronavirus fears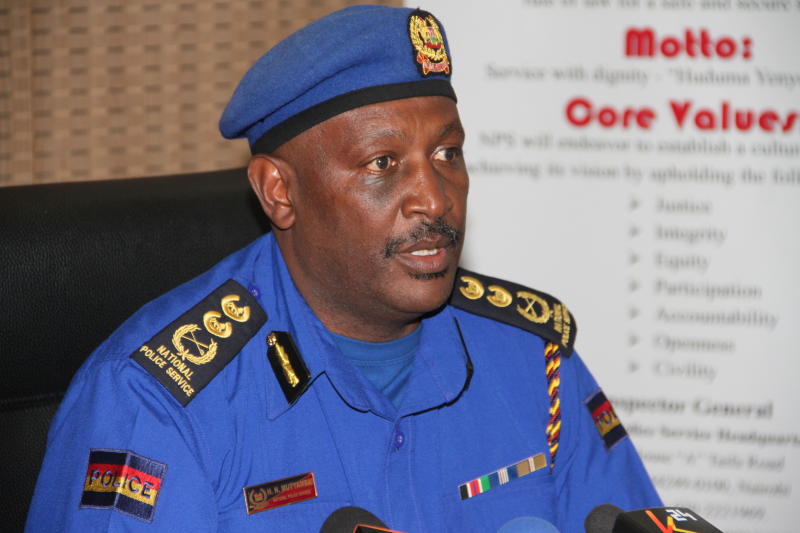 Inspector General of Police Hilary Mutyambai (pictured) has recalled police officers from leave to help enforce measures to curb the spread of coronavirus.
In a memo sent to his deputies on Friday, Mutyambai canceled leave for some 2,000 police officers.
"Due to unfolding events related to coronavirus, the Inspector General National Police Service has cancelled all annual leaves, except those proceeding to their terminal leave," the memo read.
The officers have been put on standby to help if and when called upon in case the country decides to impose a lockdown to curb the spread of coronavirus.
Police are currently being used in various operations, including accompanying health officials to hotels to evacuate quarantined people.
They have also been ordered to report any coronavirus case reported in their areas of jurisdiction.
Upscale security
Officials said the officers were expected to upscale security in public and residential areas and deter criminals from vandalising business premises that have been closed down.
A number of officers have been tasked to monitor the social media and detect any misinformation on the disease and take action.
This follows a Cabinet meeting's warning to people spreading fake news on the coronavirus situation, saying purveyors of such information will be dealt with in accordance with established laws.
The Cabinet meeting held last Thursday at State House, Nairobi, and chaired by President Uhuru Kenyatta, directed law enforcement agencies to pursue and arrest individuals spreading false information on the disease.
Blogger Robert Alai was among those arrested over coronavirus-related tweets.