Traders in running battles with police over market closure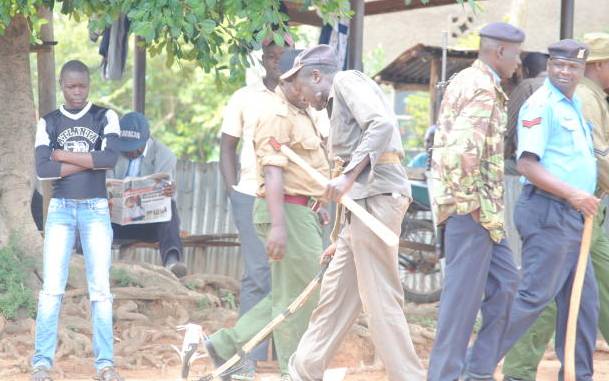 Traders at Lubao Market woke up to a rude shock yesterday after they were turned away by the police and county askaris from the place of trade.
The traders had arrived early in the morning at the dog market as usual ready to transact before they were denied entry into the open-air market by security personnel.
Governor Wycliffe Oparanya had earlier ordered the closure of all open-air markets across the 12 sub-counties in a bid to control the spread of the coronavirus.
Officers who were deployed to enforce the directive by the county chief had a hard time containing the traders who had become agitated by the move to eject them.
When diplomacy failed, the police and county askaris resorted to force and dispersed the agitated traders who forced to flee to safety.
"We were not given any notice that we should not come to the market. Today is a market day and this is the day we make most sales. What does coronavirus have to do with our business?" asked a second-hand clothes dealer.
Another trader broke out in tears wondering how he will sustain his family as the market is the source of his livelihood.
"This is where we get money to support our families. The order to close the market should be revoked with immediate effect as those making the orders are not giving us food to feed our families," said Moses.
After an hour standoff, the traders left the market. However, after the law enforcement offices had gone, the traders entered the market and resumed their businesses uninterrupted.
A spot check by The Standard revealed several markets in the county were going on as usual. It has also emerged that locals do not have information on why they are being told to keep off the markets as well as using sanitisers.
Meanwhile, Bungoma Governor Wangamati yesterday banned all market days in the county for the next 30 days as part of the efforts to stop the spread of coronavirus.
Wangamati who spoke at Mabanga Agricultural Training Centre in a joint security meeting with security officials from the national government ordered the closure of all open-air markets with immediate effect.
Wangamati also directed that the dead should be interred within 24 hours of their passing on. Further, those attending the burial ceremonies should be provided with running water and soap to wash their hands.
The governor also suspended all church functions including weddings, night prayers, and crusades.