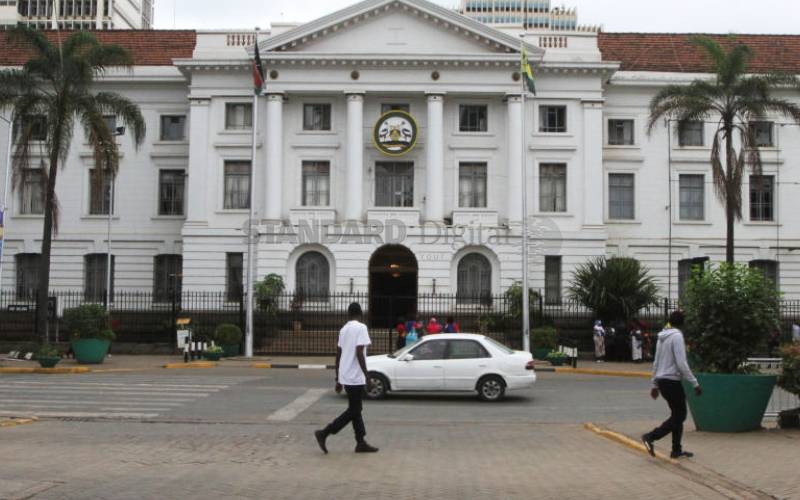 A union has threatened a go-slow by its members if a deal that led to the transfer of county functions to the State is not clarified.
In a letter dated March 13, 2020, the Kenya County Government Workers Union (KCGWU) wants the County Secretary and the Ministry of Devolution to shed more light on the transfer deal. It has warned that Nairobi County workers will engage in the go-slow if more details on the deal are not made public.
The union has demanded a meeting today in the office of the Principal Secretary for Devolution.
The letter stressed that KCGWU would proceed to parade its members at City Hall on a go-slow by tomorrow if the meeting was not held.
Read More
Parade members
"Take notice that if you fail to convene the said meeting, this union shall proceed to parade its members at City Hall starting Tuesday March 17, 2020 and continue doing so until this matter is fully addressed," the letter read.
The ministry and the county administration are yet to respond to the letter.
Key functions of the Nairobi County Government were last month handed over to the National Government in a deal signed at State House by Governor Mike Sonko and Devolution Cabinet Secretary Eugene Wamalwa.
President Uhuru Kenyatta oversaw the signing of the deal.
Health, Transport, Public Works and Planning and Development Services were the functions taken over by the State.
KCGWU said it only learned of the transfer deal through the media. The union said the transfer of functions would have far-reaching effects, some which could directly affect its members.
"This union is a crucial stakeholder in this matter and cannot be kept in the dark on this matter," the letter read.